The Desautels Graduate Student Society is a student-run association serving the interests of Masters Students of the Desautels Faculty of Management at McGill University.

Mission
Our mission is to independently represent the members in its interactions with the faculty and administration in response to policies, issues, and concerns of importance to the Society's members, including, but not limited to academic issues, administrative policies, and career planning opportunities.

Executive Team
We work to ensure that students get the most of their McGill experience and help the Masters students at the Desautels Faculty of Management achieve more as a group than we would each individually.

President - Graeme Denhoff-Ball
After travelling the world and consulting small tech initiatives as a freelance digital strategist, Graeme has come to McGill to complete his MBA in a double concentration of Finance and Global Strategy & Leadership. Originally from Vancouver, Canada, Graeme completed a Bachelor of Arts in Political Science and played varsity rugby, before launching his career. Now at Desautels he is hoping to leverage his MBA experience to take on a broader strategy role once he finishes his studies. In his spare time, he enjoys playing music, being active and staying social!
Contact Graeme
graeme.denhoff-ball [at] mail.mcgill.ca
president.dgss [at] mail.mcgill.ca
---
VP Internal - Laurence Danis
Laurence is a 2020 MBA candidate pursuing a concentration in Global Strategy & Leadership. Laurence also holds a Bachelor of Arts, with a Major in Psychology, from Mount Allison University in Sackville, New Brunswick. Upon graduation, Laurence moved to Alberta and began by working in promotional marketing, followed by sales for over 6 years. In her spare time, Laurence loves to travel, read and cook. She is also passionate about learning new languages, skiing, and volunteering.
Contact Laurence
laurence.danis2 [at] mail.mcgill.ca
vpinternal.dgss [at] mail.mcgill.ca
---
VP External - Lina Greiche
With 7+ years' experience in the hospitality industry, Lina is a 2020 MBA candidate pursuing a concentration in Finance. Originally from Lebanon and raised in Montreal, she holds a Bachelor of Business Administration, specializing in Hotel Management from University of Quebec in Montreal (UQÁM). At the age of 21 she became a manager, leading a team of 150 employees in a large luxury hotel in downtown Montreal. Prior to her MBA, Lina was part of the Executive team for the opening of a new luxury hotel in downtown Toronto. She looks forward to complementing her leadership and operations skills with quantitative and finance knowledge. During her spare time, Lina co-directs a non-profit consulting initiative. She loves sports and plays with the Desautels soccer and basketball team.
Contact Lina
lina.greiche [at] mail.mcgill.ca
vpexternal.dgss [at] mail.mcgill.ca
---
VP Finance – Kevin Wijaya
Kevin is a 2020 MBA Candidate from Indonesia, pursuing a dual concentration in Marketing and Business Analytics. He holds a Bachelor of Arts in International Business from Cologne Business School, Germany, concentrating both in Accountancy and International Business Administration. Kevin has 3+ years of international professional experience ranging from performing financial due diligence at PwC, various finance roles through GE's Financial Management Program (FP&A, Commercial Finance & Supply Chain Finance), as well as managing marketing projects in Shopee, a major E-commerce start-up in South East Asia. Kevin is very passionate about technology development and how it can help to improve our quality of life. In his spare time, Kevin enjoys working out, travelling and playing with his gadgets.
Contact Kevin
kevin.wijaya [at] mail.mcgill.ca 
vpfinance.dgss [at] mail.mcgill.ca
---
VP Communications - Ashna Agnihotri
Ashna is a 2020 MBA Candidate with a focus in Marketing. Ashna also holds a Masters In Commerce from India. She has worked in Advertising and Digital Marketing before moving onto doing a Fellowship with a Non For Profit organization specializing in education for 2 years. Ashna is an avid reader and loves to travel in her spare time. You can usually find her engaged in conversations and are encouraged to speak to her about almost anything if you ever see her!
Contact Ashna
ashna.agnihotri [at] mail.mcgill.ca
vpcommunications.dgss [at] mail.mcgill.ca
---
VP Clubs & International - Aakash Gopalakrishnan
Aakash is a 2020 MBA Candidate and aspires to step into the realm of human capital consulting. Born in India and raised in Dubai, Aakash worked as a mechanical engineer and a corporate development consultant, while managing an international non-profit organization. Aakash is passionate about music and loves to air-guitar in his free time! He is always in the quest for a new perspective-so if you have an interesting viewpoint to share or even if you are looking for someone to brainstorm ideas with, you can contact him!
Contact Aakash
aakash.gopalakrishnan [at] mail.mcgill.ca
vpclubs.dgss [at] mail.mcgill.ca
---
MMA Representative - Manoviraj Singh
Manoviraj is pursuing a Master of Management in Analytics and has previously earned a MSc Finance from ESADE Business School in Spain. Upon graduation, he got the opportunity to work for an e-commerce giant in Germany. Originally from India, Manoviraj holds a Bachelor Degree in Management from University of Delhi. During his undergraduate, Manoviraj interned with various companies in different industries to find his passion and also co-founded an NGO called Inaayat. In his free time, Manoviraj likes to explore his creative side and enjoys collecting stamps and postcards, photography, and is also a sneaker enthusiast.
Contact Manoviraj
manoviraj.singh [at] mail.mcgill.ca
---
MMF Representative - Carl Kilajian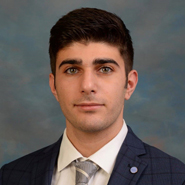 Carl Kilajian is pursuing a Master of Management in Finance and has previously earned a Bachelor of Science at Université de Montréal. There, he specialized in Macroeconomics and complemented his degree with Finance and Accounting courses at HEC Montreal. Carl also acted as president for the university's ski and snowboard club, while lecturing university level classes as a TA. Carl is passionate about investing; his goal is to be a respectable investor in the private markets.
Carl has worked in many SMB's and has extensive knowledge of the restaurant industry, ranging from high end start-up concepts to fast food franchising. Besides work, Carl enjoys playing soccer, skiing, traveling the world and learning about different cultures.
Contact Carl
carl.kilajian [at] mail.mcgill.ca
---
PMBA 1 Representative - Ramin Mohsenin
Ramin is pursuing his MBA part-time through Desautels Faculty of Management's Professional MBA program (Class of 2021). He holds a Bachelor degree in Civil Engineering (Co-op) as well as a PMP certification. He is currently pursuing a concentration in Strategy and Finance.
With 6+ years of professional experience in the Civil Engineering and Project Management domains, he became a leader in Cost Consulting, Project Controls, and Dispute Resolution during his time at Examine Consultants. Ramin is currently a Manager at Deloitte Canada, consulting within the Capital Projects division.
In his spare time, Ramin serves as an Assistant Coach for the Concordia University Men's soccer team. He grew up playing soccer at elite national levels including varsity, professional, and semi-professional stints. His other sporting passions include basketball and rugby. He is also an Ambassador for the Young Philanthropists Circle of the MMFA.
Contact Ramin
ramin.mohsenin [at] mail.mcgill.ca
---
PMBA 2 Representative - Frédérique De Muszka
Frédérique is pursuing her MBA part-time through Desautels Faculty of Management's Professional MBA program (Class of 2020). After completing a Graduate Diploma in Occupational Therapy from McGill University, Frédérique started working at Santa Cabrini and spent a year working in Northern Quebec as an Occupational Therapist. In her free time, Frederique enjoys travelling, spending time in the outdoors, backcountry skiing, and finding new challenges.
Contact Frédérique
frederique.demuszka [at] mail.mcgill.ca.
---
PMBA 3 Representative - Meg Pedrick
Meg is a 2019 MBA candidate pursuing her degree part-time while working. Meg is originally from Vermont and holds a bachelor's degree in International Development Studies from McGill University. Upon graduation, she pursued a career in digital marketing technology working as a director of sales and enterprise account executive at software firms for 7 years and as a freelance marketing consultant for 1.5 years. After launching two new divisions and running global agency partnerships at a mid-sized software company, Meg joined Sid Lee in 2016 as their Director, Digital Business Development where she is responsible for growing their digital service business. In her free time Meg enjoys distance running, traveling, skiing, and spending time with her husband and 1 year old daughter.
Contact Meg
meg.pedrick [at] mail.mcgill.ca