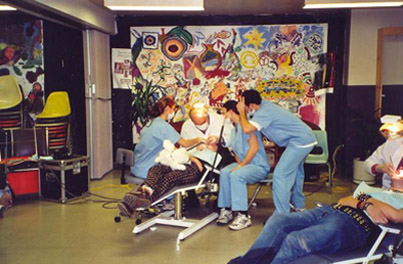 PROGRAM GOALS:
To work directly and creatively with the Montreal community to provide free basic dental care to people who cannot access private dental care because of financial hardship or physical or psychological disability.
To train student dentists in delivering care to a population with needs different from those who regularly attend private dental offices.
To support volunteerism in its truest sense by bringing together professional dentists, student dentists, and community and student volunteers to help those who could not otherwise afford dental care.
For more information about this program, view the clips below:
"Changing lives, one smile at a time!"
"Canal Savoir Reportage on Outreach Program"
If you are interested in volunteering with Outreach, please read the following information:
Volunteers at the Outreach Clinic are responsible for unloading the truck and setting up the venue, checking in patients, helping students set up between patients, dispensing at the clinic supply desk, and finally re-loading the truck at the end of the evening. Our volunteers are dynamic, eager to learn, personable, and quick on their feet. All our volunteers must be Hepatitis B immune. Given the large number of applications and the limited spots, applicants will go through an interview process. If you'd like to be informed of upcoming volunteer opportunities, please email your CV to outreach [dot] dentistry [at] mcgill [dot] ca.
Please note that we are no longer recruiting for the 2014-2015 academic year.