November 2017
CRRD Trainees Among Winners at 2017 RQR Symposium
While many from the CRRD community traveled to St-Hyacinthe for the 2017 RQR Symposium November 14-15, 2017, two trainees came home winners! Anne-Sophie Pépin, PhD Student with Sarah Kimmins, won 3rd place for her poster presentation and Yining Li, PhD student with Daniel Bernard, tied for 2nd place with her oral presentation.
Congratulations Anne-Sophie and Yining! 
RQR Trainee Awards
The Réseau Québécois en reproduction (RQR) is providing the CRRD with a total of $27.5K/year towards fellowships for new graduate students and postdoctoral fellows who are co-supervised by two or more regular members of the RQR, one of whom must be a CRRD Principal Investigator. The first studentship of $10,000 (1 Sep 2017 - 31 Aug 2018) has been awarded to Courtney Smith, MSc student with Dr. Daniel Bernard (co-supervised by Puttaswamy Manjunath at UdeM), for her project titled "Identification and characterization of the IGSF1 interactome."  

Congratulations Courtney!!
An additional $17.5K is available from the RQR for new trainees starting January 1st, 2018  Applications are due November 30th, 2017. For more information, go here! 
October 2017
Inaugural Clermont Lecture a Success!
One hundred McGill faculty and students, clinicians, and members of the public attended the inaugural Dr. Yves Clermont Lecture, titled "The time-space continuum of spermatogenesis," delivered by Dr. Bernard Robaire on Wednesday, October 4th, 2017 at the beautiful McGill Faculty Club. Everyone was treated to a terrific presentation, including audio clips of Dr. Clermont himself and an exploration of the history and future of male fertility research. The evening concluded with a short reception.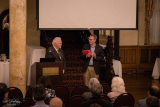 To learn more about the Clermont Lecture, go here.
July 2017
​Bernard Robaire to receive the Gabriel L. Plaa Award of Distinction

CRRD Member Dr. Bernard Robaire has been selected to receive the Gabriel L. Plaa Award of Distinction at this year's Canadian Society of Toxicology Meeting.  This award recognizes individuals who have made outstanding and sustained contributions to the science of toxicology in Canada and service to the Society of Toxicology of Canada. As the Plaa awardee, Dr. Robaire will make a presentation during the plenary of the Annual Symposium which will be held at the Omni Hotel in downtown Montreal November 29-December 1, 2017.  
Congratulations, Bernard! 
June 2017
Winners of the NEW Trainee Fellowship Competition Announced!
The format of the Spring 2017 Trainee Fellowship Competition was radically different from previous competitions in that 1) we did not require research statements and transcripts; 2) we tested the applicants' scientific insights and analytical capability in the form of a written exam; and 3) we assessed the applicants' passion for science through an interview. Nine applicants wrote the exam with four going on to the interview stage. The winners were chosen by the reviewers based on exam and interview results, with feedback being sent to all 9 applicants with the goal of making the candidates' experience in the competition beneficial for their future development.
And the winners are: 
Anne-Sophie Pépin, MSc/PhD with S. Kimmins
Enrique Gamero Estevez, PhD with A. Ryan
We will be holding our next Fellowship Competition in October 2017.
Congratulations Anne-Sophie and Enrique!
May 2017
Breakthroughs in Reproduction and Development
The Centre for Research in Reproduction and Development hosted the 2017 Research Day on Tuesday May 16, 2017, from 8:00am - 5:30pm, at McGill's New Residence Hall at 3625 ave du Parc, Montréal, Quebec. A big thank you to PeproTech and IDT who sponsored the event! A total of 137 participants listened to 6 trainee oral presentations and 3 excellent lectures by guest speakers Drs. Marisa Bartolomei, Liliana Attisano, and Marjorie Dixon. In addition, 42 trainees presented their work during two poster sessions. The oral and poster presentations were judged by a total of 23 PIs and postdoctoral fellows. Congratulations to the awardees:
Yining Li ($250 for Best Oral - Supervisor: Dr. Daniel Bernard)
Helen Maunsell ($100 for Best MSc Poster - Supervisor: Dr. Yojiro Yamanaka)
Cayetana Vázquez-Diez ($100 for Best PhD Poster - Supervisor: Dr. Greg FitzHarris)
Chirine Toufaily ($100 for Best Postdoctoral Poster - Supervisor: Dr. Daniel Bernard)
CRRD Trainee Wins Best Presentation at BFR2017
Han Yan (Aileen), PhD trainee in Dr. Hales' lab, won a Certificate for Best Presentation at the 8th International Symposium on Flame Retardants in York (UK) in May. Way to go Aileen! 
Science Share and Social A Success! 
Despite having to reschedule several times - due to lack of participants and snow closures - the Science Share and Social was a great success when it finally took place on April 12, 2017. Fourteen members shared their research in 3 minute presentations followed by mingling over wine and goodies in the Goodman atrium. The resulting videos can be found here.   
 
A better understanding of the research being done in the Centre was gained and fun was had by all!
April 2017
CRRD Member Wins Big at Experimental Biology 2017! 
A huge congratulations to N Brett (PhD Student with Dr. Weiler) who won the American Society for Nutrition Clinical Emerging Leader Award as well as winning the American Society for Nutrition Maternal, Perinatal and Pediatric Poster Competition at this year's Experimental Biology Meeting in Chicago, April 22-26. 
Welcome FitzHarris Lab!
We are pleased to announce Dr. Greg FitzHarris, adjunct professor of the Department of Pharmacology and Therapeutics at McGill, as the newest addition to the CRRD. Dr. FitzHarris' basic science research group, located in the Research Centre at the University of Montreal Hospital Center (CRCHUM), aims to understand the cellular basis of infertility by unravelling how healthy oocytes (eggs) and embryos are made. They specialize in live cellular imaging and cell biology approaches. For more information about the FitzHarris Lab and their research, check out their website: http://www.fitzharrislab.com/.
Please join us in welcoming Dr. Greg FitzHarris and his team to the CRRD!
March 2017
Trivia Night a Hit
There was much laughter at CRRD's first Trivia Night on March 24th where four teams battled it out over questions in three categories: History & Geography, Movies, and - of course - Reproduction & Development! 
A big thank you to co-trainee rep Gauthier for organizing the night - from a Costco run to writing the questions to tabulating the scores. Thanks also to Anne-Sophie and Enrique who helped sell tickets at the Macdonald and Glen. And thank you, of course, to everyone who attended and helped make the evening a fantastic event!
New and Improved Trainee Fellowship Competition
Please note that the Spring 2017 Trainee Award Competition will be launched on Monday, April 3rd.  The CRRD Awards Subcommittee has been meeting regularly and has made radical changes to the competition. We determined that 1) the goal of our fellowship program is to fund developing, next-generation scientists who can independently expand the boundaries of scientific knowledge and curiosity and 2) we wish to award trainees who are committed to research, have or show great potential for scientific insights and creativity, and have developed a passion for science. To this end, we have developed and are introducing a new and (we hope) improved evaluation mechanism! 
The essential difference to be noted in this new award mechanism is that 1) we will no longer require research statements and transcripts; 2) we will attempt to capture the applicants' scientific insights and analytical capability in the form of a written exam; and 3) we will attempt to gain a sense of the applicants' passion for science through an interview.
Also of note, each award will now be worth $10,000. We have $20,000 budgeted for the spring 2017 competition.
February 2017
Travel Stipends Now Available for Workshops/Courses
The CRRD is now offering travel stipends, up to $500, to help graduate students and post-doctoral fellows attend workshops and courses in addition to the travel stipends awarded for participation in national and international conferences. Applicants must be working under the primary or co-supervision of a faculty member of the CRRD and must give justification for how the event is needed to advance their training. Support will not be given for travel to the RQR symposium or workshops. In an effort to spread the funds among the membership, there remains a limit of one travel award per year (June 1 – May 30) per trainee and two per year per lab, regardless of whether the support is for a conference or workshop/course. For more information, as well as application forms, go here.
O'Flaherty Lab has much to celebrate! 
Alex Yu, MSC student under the supervision of Dr. Cristian O'Flaherty, received the Claude Gagnon Urology Studentship from the Department of Urology, McGill University. Way to go Alex!
Furthermore, three peer-reviewed articles were recently published:
1.      Lee D, Moawad A, Morielli T, O'Flaherty C. Peroxiredoxins prevent oxidative stress during human sperm capacitation. Mol Hum Reprod, in press December, 2016.
2.      Liu Y, O'Flaherty C. In vivo oxidative stress alters thiol redox status of peroxiredoxin 1 and 6 and impairs rat sperm quality. Asian J Androl, 19:73-79, 2017.
3.      Ozkosem B, Feinstein S, Fisher A, O'Flaherty C. Absence of Peroxiredoxin 6 Amplifies the Effect of Oxidant Stress on Mobility and SCSA/CMA3 Defined Chromatin Quality and Impairs Fertilizing Ability of Mouse Spermatozoa. Biol Reprod, 94(3):1-10, 2016.
Congratulations Cristian!