Google Code for Remarketing Tag - Bloom
Welcome to MACES!
The McGill Association of Continuing Education Students (MACES) provides SCS students with a supportive network and community, while facilitating access to resources and activities that promotes students' well-being and helps them achieve their goals. MACES strives to build and represent a life-long community that enriches the SCS student experience, while advocating for equity and inclusivity. The association also provides opportunities for students to get more involved with the McGill community, and operates an exclusive study space located at 3437 Peel Street, where students can meet, exchange, and relax before class.
---
Be sure to check out what the MACES, 3437 Peel Street, building has to offer. Here is a teaser:
The Study Room
Designed for group and individual work, The Study Room is also fondly known as the Kiwi Room. It is a great space to study, wait until class starts or get to work on an assignment or group project.
Computer Lab
The state-of-the-art computer lab is equipped with Mac and Windows computers. It is a quiet area hence it is destined for those who wish to have a quiet place to study. A McGill UPrint copier and printer is also installed here for your convenience.
Conference Room Booking
The conference room is equipped with a widescreen TV so it is ideal for groups to practice their presentations. Use of the conference room is free of charge but by reservation only for max. 3 hours/day. To book a room, click here.
---
McGill SCS Services At The MACES Building
McGill Writing Center Tutorial Service 
The School of Continuing Studies is pleased to announce that the McGill Writing Centre now offers on-site tutoring with a writing specialist for members of the McGill Association of Continuing Education Students (MACES) at the MACES building, 3437 Peel Street. Meet with an experienced tutor and discover how learning to write clearly and concisely can contribute to your academic and professional success!
To make an appointment with the on-site tutor, please send an email to macestutorial [at] mcgill.ca with some proposed dates and times. Students may book up to one (1) hour per day and up to seven (7) hours per semester. Only students who are members of MACES can meet with the on-site tutor. Students are required to show their McGill ID card.
If you need to cancel your appointment, you must send an email to macestutorial [at] mcgill.ca at least 24 hours in advance. If you do not cancel your appointment more than once, you will be blocked from using the tutorial service for the rest of the semester.
For the winter 2020 semester, the on-site tutor will also hold drop-in hours as follows:
Mondays, from 3:30 – 5:30
Tuesdays, from 1:30 – 2:30
Thursdays, from 3:30 – 4:30
You do not need to make an appointment. Students will be seen on a first-come first-served basis.
MACES students can also use the on-campus tutorial service at the Redpath Library. However, the combined total number of appointments cannot exceed seven (7) hours per semester.
Should you have any questions about the tutorial service, please send an email to the coordinator at: mwctutorial [at] mcgill.ca.
---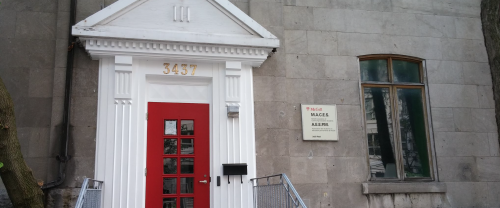 Contact MACES
3437 Peel Street, Montreal,
Quebec, H3A 1W7, Canada
Computer Lab: 1 (514) 398-5474
Executive office: 1 (514) 398-4974
Email: maces [at] mail.mcgill.ca