Award for Distinguished Teaching
The School of Continuing Studies' Award for Distinguished Teaching honours teachers who embody the highest attributes of the profession. They are committed to quality teaching, motivate their students, and have the drive to help their students build on their acquired competencies.
In the eyes of the thousands of students who come to further their education at McGill after working hours, distinguished teachers at McGill's School of Continuing Studies are those who:
Are passionate about supporting students' learning
Are responsive to individual students' specific requests for guidance
Help students develop autonomy in the learning process
Provide encouragement and a sense of accomplishment notwithstanding the difficulty of any given assignment or course
Consistently demonstrate their expertise in the subject matter or field
Inspire students to commit themselves to becoming life-long learners
Are at all times professional and respectful
The School's Academic Committee requests the assistance of students to identify members of the teaching staff who exemplify these qualities and values. Students who put forward nominations of deserving individuals are helping the university to meet its own objective of recognizing quality teaching. The School's Academic Committee looks forward to receiving thoughtful nominations from its student body. The official criteria for this Award may be found here.
Awards Recipients
Instructors biographies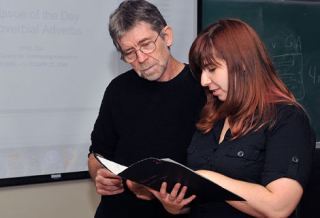 Read the biographies of instructors teaching at the School »
Testimonial

All the instructors have worked in the fields in which they teach, so they are up to date with the latest practices. They want you to succeed. If you want additional help, they go above and beyond to find it for you. They're very approachable, often staying after class to answer questions and offer advice. They really care about you.

Angela G.
Graduate, Public Relations, Finance