Google Code for Remarketing Tag - Bloom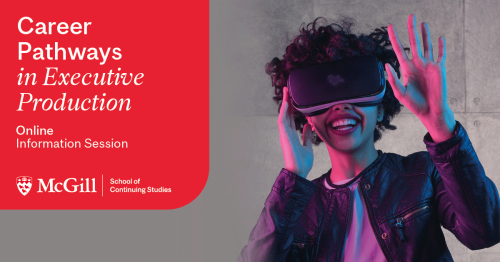 Information Session - Executive Production in Creative Industries
Dive in to McGill's Professional Development Certificate in Executive Production in Creative Industries and explore how this unique evening and weekend program can help you advance your career on the business side of entertainment and prepare you for opportunities in this fast-evolving field.
Watch the session (PW: CppQAjp3)
Reinventing the Runway: Marketing and Creative Production in the Age of COVID
How do you take events meant for a live audience digital to drive marketing results? We sat down with Martin Dionne, Founder and Creative Producer at Prëmo Inc. and Student in McGill's Professional Development Certificate in Executive Production in Creative Industries to hear about how he helped beachwear brand SegSea reinvent the runway and drive sales of their new line through an online fashion show in the summer of 2020.
Is a Career in Executive Production Right for You?  
By 2020, it is estimated that the labour market for executive production professionals in various creative industries in Canada will reach nearly 5,000 openings annually. The veritable boom the entertainment industry is seeing is no surprise. As the economy recovers from the recent downturn, as consumers have more and more disposable income, and with the rise of the Experience Economy, more and more people are seeking out new and unique ways of being entertained—and more and more companies are looking to create winning experience to win over customers.  
Online Information Session
Wondering if a McGill Professional Development Certificate is for you? Get answers from our on-demand info session and learn about topics offered, delivery method, our approach to learning and teaching, tuition fees and how to apply. Plus, hear from actual students who will talk about their experience and how the program they chose helped them achieve their professional aims.
Watch the Session (PW: zZB3D32U)
Courses
Required Courses (20 CEUs):
6 CEUs from the following:
Contacts
Career and Professional Development
Phone: +1 514-398-5454
688 Sherbrooke Street West, Suite 1029 Montreal, Quebec, Canada H3A 3R1
Hours of Operation
Monday to Friday
9:00 a.m. to 5:00 p.m.