Google Code for Remarketing Tag - Bloom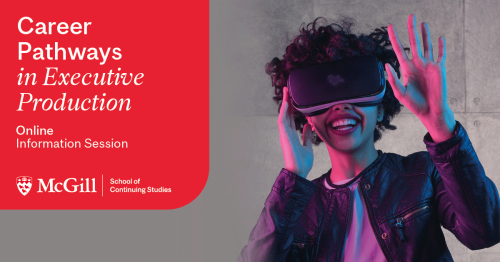 Information Session - Executive Production in Creative Industries
Dive in to McGill's Professional Development Certificate in Executive Production in Creative Industries and explore how this unique evening and weekend program can help you advance your career on the business side of entertainment and prepare you for opportunities in this fast-evolving field.
Webinar - VFX trends in Canada: The Next 5 Years - A Conversation with Industry Leaders
Join us for a live interactive webinar to explore the next 5 years of VFX in Canada as experts from across the sector to explore trends, challenges and opportunities in the sector.
Online Information Session
Wondering if a McGill Professional Development Certificate is for you? Get answers from our on-demand info session and learn about topics offered, delivery method, our approach to learning and teaching, tuition fees and how to apply. Plus, hear from actual students who will talk about their experience and how the program they chose helped them achieve their professional aims.
Watch the Session (Passcode: zZB3D32U)
Courses
Required Courses (20 CEUs):
6 CEUs from the following:
Contacts
Career and Professional Development
(Non-credit courses and programs)


Phone: +1 514-398-5454
680 Sherbrooke Street West, Suite 1029 Montreal, Quebec, Canada H3A 2M7
Hours of Operation
Monday to Friday
9:00 a.m. to 5:00 p.m.
The McGill School of Continuing Studies has partnered with OCAD U, Canada's largest art and design university, to offer you a variety of online professional development courses that will help you enhance your creative skillset.