​
The Chemistry Outreach Group works to foster a deeper understanding of chemistry through fun and interactive experiments for students of all ages.
Our free demonstrations include an equal mix of educational information and exciting chemical and physical reactions. We have a wide variety of content available that can be adapted to any age group, from kindergarten through CEGEP. All of our demonstrations have a hands-on component and we work with teachers to tailor our presentations to the students' current science unit. It is our hope that our experiments will provide educators and students with lots of material to discuss in future classes.
Follow our experiments on Facebook, Twitter or Instagram!
Never miss out on one of our events by signing up for our mailing list!
You can contact us by outreach.chemistry [at] mcgill.ca (email)
The Chemistry Outreach Group is supported by:
See what other science outreach is being done at McGill by clicking here!
UPCOMING EVENTS
As part of McGill's Bicentennial and 24h de science, join McGill Chemistry Outreach on May 8th at 11 am as we celebrate the wildest discoveries in chemistry throughout McGill's history with exciting live demonstrations and activities you can follow along with from home!
Registration is required, click here to register for the English show at 11 am. 

Sign up for our mailing list here: https://www.mcgill.ca/chemistry/mcgill-chemistry-outreach-group-mailing-...
To see more on the McGill Bicentennial: https://200.mcgill.ca/
To see more on 24 heures de science: https://www.science24heures.com/en/
---
Dans le cadre de du Bicentenaire de McGill et de 24hr de Science, rejoignez-nous le 8 mai à 12h pour célébrer les découvertes les plus extraordinaires en chimie faites tout au long de l'histoire de McGill avec des démonstrations palpitantes et des activités chez vous.
L'inscription est obligatoire, cliquez ici pour vous inscrire au spectacle français à 12h.
Inscrire à notre liste de diffusion ici: https://www.mcgill.ca/chemistry/mcgill-chemistry-outreach-group-mailing-...
Pour en savoir plus sur le Bicentenaire de McGill: https://200.mcgill.ca/

Pour en savoir plus sur 24 heures de science: https://www.science24heures.com/en/
Who Are We?
Chris Corkery now makes technology for the ISS and occasionally lectures at McGill. He enjoys talking to people, science, and demos that involve lasers.
Alejandra Dominguez-Huerta is a Ph.D. student with a passion for science communication and sustainability. Interestingly, Allie's interest in chemistry began thanks to cosmetics! Inviting others to find the connections between chemistry and our daily lives is one of her favourite tasks. 
 Kayrel Edwards is a PhD student in Materials Chemistry at McGill. Her work is focused on fabricating bio-sourced and biodegradable materials to replace petrol-based plastics. She enjoys teaching, playing volleyball and gardening.
 Serge Hirka is a PhD student working on the modified nucleic acids in the McKeague lab. He has been doing chemistry demos in front of various audiences ever since the age of twelve when parents gave him his first chemistry kit as a birthday present. He also loves learning languages and can spend hours talking about that one word's etymology...
 Igor Huskic has obtained his PhD from McGill University in 2019 and is currently a post-doctoral researcher in Solid-state and Green chemistry. He is very interested in all things crystalline. When not doing that, he likes to read, cook and bike. His favourite experiments are the liquid light-bulb and fireflies in a bottle.
Anne Labarre is a Master's student in medicinal chemistry. Her favourite demo is the elephant toothpaste, from which she always saves a bit for her elephant at home (but don't tell anyone). Apart from this, she enjoys swimming and reading.
 Christophe Lachance-Brais has been in love with chemistry since he learned atoms are like small Legos. Now he tries to share his passion, no matter how many explosions it takes! He spends his days advancing his Master's, but he also skies, climbs and beer-pongs. 
Maureen McKeague is an Assistant Professor in the departments of Chemistry and Pharmacology at McGill. Her lab group is figuring out how chemistry and yeast can help cancer treatment. Maureen loves chemistry outreach because chemistry is part of our everyday life, no matter how you look at it. Her favourite experiment will always be making slime because it works, it's colourful, and anyone can do it!
 Ada McVean recently started her Masters doing nucleotide chemistry in the Damha lab, after doing her undergrad at McGill in chemistry and gender studies. She works for the McGill Office for Science and Society busting pseudoscience at every opportunity. She enjoys organic chemistry, lab work, science communication and any experiments that involve fire.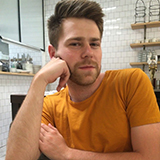 Mihai Mesko is a Master's student studying the chemistry driving the underwater adhesion of marine mussels. He loves the opportunity Outreach gives to improve his teaching skills, and the smiles he gets to put on people's faces via science! When not busy looking dreamy for his satirical Foodstagram, you can typically find Mihai biking around the city, hunting for a cute new cafe or trying to distract people from their work!
Siba Moussa is a PhD student at McGill's Chemistry Department. She is interested in all things related to electrochemical sensing, enzymes and nanotechnology. When Siba is not in the lab, you'll find her wandering outdoors or reading a book or two. One of Siba's favourite things is to show others how cool chemistry is through outreach!  
Siting Ni is a Ph.D. student in the Department of Chemistry studying material chemistry. She loves creating something colourful in the lab, listening to classical music, and putting some paints on canvas.
Jorge Ramos is currently in his PhD trying to understand how molecules work. Directly imported from Mexico he enjoys talking and teaching science to any people who is  (or not) willing to hear him.  In love with the idea of scientific society where the reason drives the world.
Anaïs Robert is a MSc Neuroscience student with a background in chemistry. She loves applying all the cool things she's learned from chemistry to biology and everyday life. When not in the lab, you can find her kicking a soccer ball around with some friends.
 Michelle Ting is finishing up her last year as a Master's student in battery research. Her work focuses on changes in the battery as it charges and discharges, usually by placing the battery in front of any light source she can get her hands on. Her favourite experiment is the hydrogen balloon, since it's so colorful and loud!
Daniel Therien is a Ph.D. student in chemistry at McGill under the joint supervision of Professors Karine Auclair and Tomislav Friščić. His research focuses on studying new ways of dealing with crustacean waste shells through sustainable processes using enzymes. When not in the lab, he enjoys playing piano or working on fun graphic design projects.
Danielle Vlaho completed her PhD in Nucleic Acid Chemistry at McGill in 2017. Since then, she has worked in the Department of Chemistry, where she spends most of her time as the laboratory instructor for McGill's undergraduate Organic Chemistry courses. Danielle loves chemistry in all its forms – but especially when it comes to cooking and baking!
 Dr. Alexander Wahba is a teacher in the Chemistry department and the staff supervisor for Outreach. He enjoys DNA chemistry and cinema.outreach.chemistry [at] mcgill.ca ( Email him) if you're interested in joining Outreach! 
 Kevin Zhang is a PhD student interested in all things related to fluorescence. When not in the lab, he can be found semi-homeless in another country, making carnitas tacos, or double-faulting at your local tennis court. 
​
Interested in Joining?
Group members include departmental staff, postdocs, graduate students and undergraduate students. If you want to join, fill out this form!

Want Outreach For Your Group?
We travel to schools to give demonstrations in the students' classroom or you can visit us here in the Otto Maass Chemistry building. Our presentations are in the building's new active learning laboratory, a state-of-the-art classroom designed to maximize student-teacher interaction and collaborative learning.
Please outreach.chemistry [at] mcgill.ca (e-mail) Dr. Alexander Wahba if you are interested in setting up an event for your school or group!
Our current events are listed below, please feel free to come on out and see what we're like in person!
---