News
Claudia Mitchell's newest co-edited publication, Participatory Visual Methodologies in Global Public Health, is now in print. Her recent co-edited book, Girlhood and the Politics of Place, is now an open access publication.
Participatory Visual Methodologies in Global Public Health, edited by Claudia Mitchell and Marni Sommer, is now available from Routledge. The new book focuses on the use of participatory visual methodologies such as photovoice, participatory video (including cellphilming or the use of cell phones to make videos), drawing and mapping in public health research. These approaches are modes of inquiry that can engage participants and communities, eliciting evidence about their own health and well-being, as well as modes of representation and modes of production in the co-creation of knowledge, and modes of dissemination in relation to knowledge translation and mobilization. Thus, the production by a group of girls or young women of a set of photos or videos from their own visual perspective can offer new evidence on how, for example, they see sexual violence. Unlike other data such as those collected through surveys or even conventional interviews, the images they have produced not only inform the empirical evidence, but also do not need to remain in a laboratory or the office of a researcher. They can, through exhibitions and screenings, reach various audiences: school or health personnel, parents and community members, and perhaps also policy-makers. This collection offers a critical overview for students, practitioners, researchers and policy-makers working in or concerned with the use of participatory methodologies in public health around the globe. This book was originally published as a special issue of Global Public Health.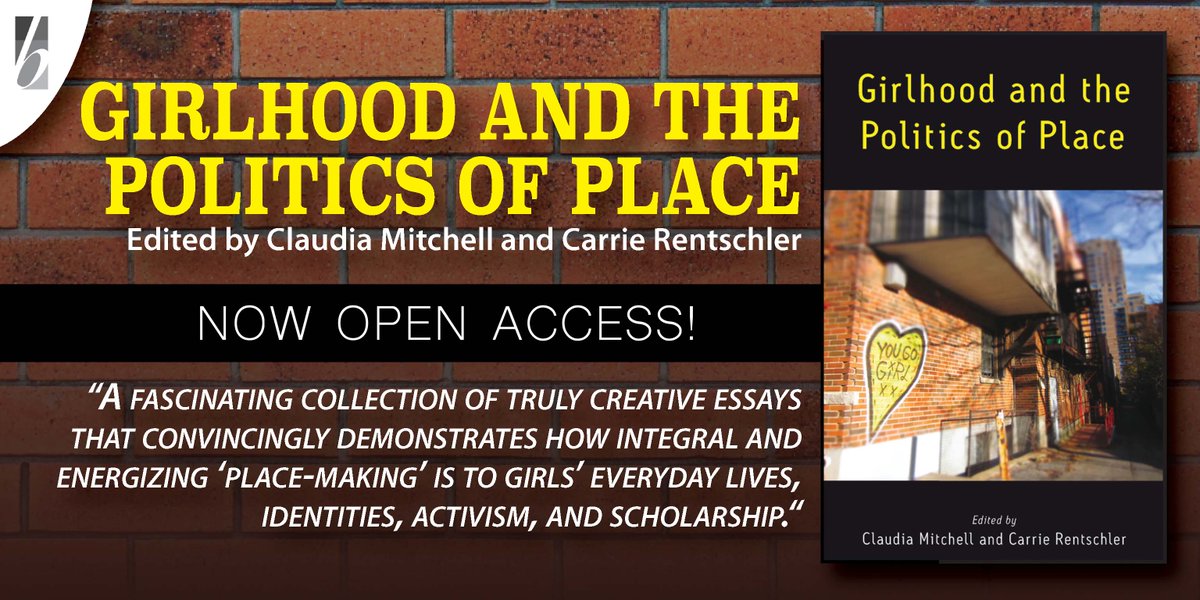 Girlhood and the Politics of Place, edited by Claudia Mitchell and Carrie Rentschler and published by Berghann in 2016, is now open access. The publication is available for free viewing or downloading at jstor,  under a Creative Commons Attribution-NonCommercial-NoDerivatives 4.0 International license. This book offers a comprehensive reading on how girlhood scholars construct and deploy research frameworks that directly engage girls in the research process. Miriam Forman-Brunell of University of Missouri, Kansas City, described the book as a "fascinating collection of truly creative essays that convincingly demonstrates how integral and energizing 'place-making' is to girls' everyday lives, identities, activism and scholarship."
Claudia Mitchell is a James McGill Professor in the Department of Integrated Studies in Education, and Director of the McGill Institute for Human Development and Well-Being (IHDW). She has written extensively in the area of girlhood studies and is the co-founder and editor-in-chief for the award-winning Girlhood Studies: An Interdisciplinary Journal. In 2016 Mitchell received the top research honour of the SSHRC, the Gold Medal, and was named a Fellow of the Royal Society of Canada.