News
Ten McGill students receive Canada's largest Science, Technology, Engineering and Math scholarship
Schulich Leader Scholarships valued at $120,000/$100,000 for STEM studies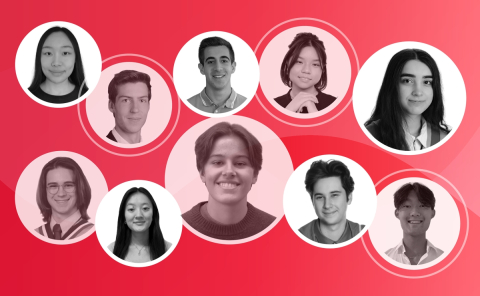 Published:
8
September
2023
Ten students have been named McGill University's recipients of the prestigious Schulich Leader Scholarship, Canada's largest Science, Technology, Engineering and Math (STEM) scholarship.
McGill graduate Seymour Schulich, BSc'61, MBA'65, DLitt'04, an entrepreneur and one of Canada's leading philanthropists, created the scholarship fund in 2012 to encourage outstanding entrepreneurial-minded students on their paths to becoming technology innovators.
Out of a pool of 350,000 potential candidates across Canada, more than 1,400 students were nominated for the coveted entrance scholarships. The 100 new scholarship recipients are enrolled in undergraduate STEM programs at 20 partner universities in Canada, including McGill.
The Schulich Leader Scholarships are even more generous this year, valued at $120,000 for recipients studying Engineering and $100,000 for students in Science, Technology or Mathematics programs.
The five 2023 Schulich Leaders entering McGill's Faculty of Engineering and recipients of $120,000 scholarships are: Kevin He, Isabella Hensley, Luke Heras, Ryan Marshall and Janelle Tam.
Kevin He is a graduate of John Abbott College on Montreal's West Island, where he excelled academically. He has assumed leadership roles in student governance, varsity volleyball, and in the Air Cadet Program where he was honoured for his peer teaching. He is studying Software Engineering at McGill and aspires to develop software and technology to enhance people's everyday lives.
Isabella Hensley, a graduate of Marianopolis College in Westmount, Quebec, is studying Mechanical Engineering. An outstanding student, Hensley helped lead the robotics team at her CEGEP to a second-place finish at a national competition. She aims to design and build autonomous robots to take over dangerous jobs that humans are still required to do.
Luke Heras, a graduate of Mulgrave School in West Vancouver, is studying Electrical Engineering. A stellar student, Heras has developed leadership skills through several activities, including robotics and an innovation enrichment program, and hopes to combine his enthusiasm for business and engineering.
Ryan Marshall, a graduate of St. John's-Ravenscourt School in Winnipeg, is studying Software Engineering. In addition to academic excellence, Marshall encouraged the launch of STEM-related clubs at his high school, led the coding club and participated in summer enrichment programs focused on innovation, quantum physics and computing.
Janelle Tam, a graduate of Little Flower Academy in Vancouver, is studying Software Engineering. A stellar student, Tam built an online training portal and programmed cost-saving automations as IT manager for a local literacy and numeracy charity. She aspires to launch a start-up that develops machine-learning tools to support front-line outreach workers.
The five incoming 2023 Schulich Leaders in McGill's Faculty of Science and recipients of $100,000 scholarships are: Kini Chen, Aviv David, Victor Dekarli, Tanya Sohrabi and Erika Wu.
Kini Chen, a graduate of Assumption College Catholic High School in Windsor, Ontario, is studying in the Faculty of Science. In addition to academic excellence, Chen launched a non-profit that provides free tutoring to students in several subjects, including math and science. She also co-founded and co-led the science club at her school.
Aviv David, a graduate of Leo Hayes High School in Fredericton, N.B., is studying for a Science degree. In addition to his outstanding academic record, David was a Canadian Senior Mathematics Contest provincial team champion in 2021. He finds Physics fascinating and wants to use his knowledge of the discipline to improve future technology.
Victor Dekarli, a graduate of École Mission Senior Secondary School, in Mission, B.C., is entering the Faculty of Science in Biological Sciences. A stellar student, Dekarli took on leadership roles at high school, organizing activities and community service initiatives and launching a tutoring club. He is also passionate about math and aims to contribute to innovation in the future.
Tanya Sohrabi, a graduate of Glebe Collegiate Institute in Ottawa, is pursuing a Bachelor of Science. In addition to academic excellence, Sohrabi enjoyed her co-op experience as a high school student with the Structural Quantum Optics research group at the University of Ottawa. She is greatly interested in quantum optics and its implications for groundbreaking imaging technologies.
Erika Wu, a graduate of Dr. G.W. Williams Secondary School in Aurora, Ontario, is entering the Faculty of Science. In addition to academic excellence, Wu has received numerous honours in national and international mathematics competitions. With a passion for STEM, she aspires to create innovative new technologies.
Since Seymour Schulich launched the scholarship program, 770 Schulich Leader Scholarships have been awarded to students in Canada. McGill has welcomed 50 Schulich Leaders to its campuses, including this year's cohort.
"We are proud to celebrate the continued success of Schulich Leader Scholarships, the premier STEM scholarship program in Canada. This group of outstanding students will represent the best and brightest Canada has to offer and will make great contributions to society, both on a national and global scale. With their university expenses covered, they can focus their time on their studies, research projects, extracurriculars, and entrepreneurial ventures. They are the next generation of entrepreneurial-minded, technology innovators," says Mr. Schulich.
---
About Schulich Leader Scholarships Canada
Recognizing the increasing importance and impact that STEM disciplines will have on the prosperity of future generations, businessman and philanthropist Seymour Schulich established this $100+ million scholarship fund in 2012 to encourage our best and brightest students to become Schulich Leader Scholars: the next generation of entrepreneurial-minded, technology innovators. Through The Schulich Foundation, these prestigious entrance scholarships are awarded to 100 high school and CEGEP graduates enrolling in a science, technology, engineering or mathematics (STEM) undergraduate program at 20 partner universities in Canada. Every high school in Canada (and CEGEPS in Quebec) can submit one Schulich Leader Nominee per academic year based on academic excellence in STEM, entrepreneurial leadership and financial need.
About McGill University
Founded in 1821, McGill University is home to exceptional students, faculty, and staff from across Canada and around the world. It is consistently ranked as one of the top universities, both nationally and internationally. It is a world-renowned institution of higher learning with research activities spanning three campuses, 12 faculties, 14 professional schools, 300 programs of study and over 39,000 students, including more than 10,400 graduate students.