News
Reaching Across the Globe for Mental Health Awareness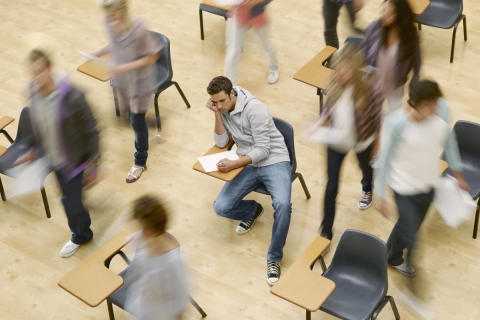 Published:
21
December
2020
Despite the inability to travel during COVID's second wave, McGill's Faculty of Education launched a major initiative overseas in partnership with McGill University Asia Office. This October marked the inaugural McGill Mental Health Awareness Week in Asia which also launched the McGill University Bicentennial Project on Mental Resilience Education in Asia. Known locally as the Education for Mental Health Resilience (EMHR) the Bicentennial Project is an ongoing, five-year, $2 million (CAD) program to be executed concurrently at McGill University in Montreal and across Asia.
Aside from the worldwide mental health concerns during COVID, today's students live with unprecedented levels of anxiety and depression. Moreover, universities worldwide are struggling to meet the needs of students who are trying to cope with transitioning to university life and often feel overwhelmed, alienated, or lost.
Under the directorship of Dr. Nancy Heath, the Development and Intrapersonal Resilience (DAIR) Research Team have developed digital tools such as videos and interactive e-flyers to help students, educators, and advisors build mental health resilience with the objective of empowering individuals to develop stress-management coping skills and responsible self-care.
"McGill's first-ever mental health awareness week in Asia accomplished two important goals: To educate our alumni in the region why mental health ought to be taken seriously, and to state our case why mental resilience building is a worthy cause," explained Alex Banh (B.Com'93) Chair of the McGill University Advisory Group in Asia as well as Chair of the McGill University Bicentennial Regional Campaign. "Through the effective use of digital tools, as well as virtual salons featuring our Faculty of Education's mental health thought leaders, both our potential donors and institutional partners were able to obtain a good sense of what our bicentennial project is about and how our entire region will benefit from our initiatives."
The feedback surrounding McGill Mental Health Awareness Week in Asia was overwhelmingly positive and helped fuel further support. Now living in Hong Kong, McGill alumna Ashley Yue (BA'15) commented about the needs of fellow millennials and dispelling the stigma around mental health, "This generation has much more information to process. Our society is far more complex and we are often expected to live up to higher standards than ever before. The amount of pressure our generation faces is astounding, and we are by no means 'weak' in wanting to talk about our mental health. I am very proud of my alma mater for taking mental health seriously."
"Until now, I had no idea how much mental health issues have cost our global economy, how deeply they have affected Asian communities, and that resilience building would be the most important way to prevent them. McGill's Mental Health Awareness Week this year has been a real eye-opener for me," alumna Joyce Mak (B.Sc AgEnvSc'12). The alumni all expressed their strong sense of pride as McGillians and advocates of this unique transformative project. Ms. Mak poignantly illustrated that McGill is "the only global university that is addressing this serious matter on a regional scale here in Asia."