News
Not Just a Game: Education Through Ubisoft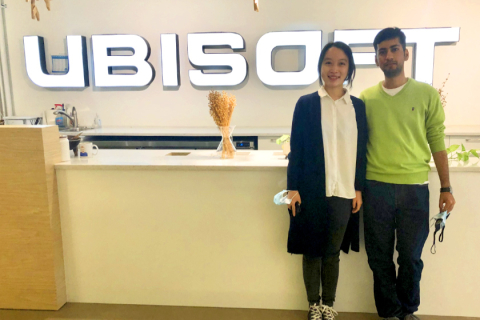 Published:
7
February
2022
Whether you're part of Generation X, a Millennial, or Gen Z, chances are that at some point in your youth, an adult told you to "stop playing video games -- you're rotting your brain!" But what if there was an immersive video game that helped you study world history and ancient civilizations? What if that non-violent adventure game was developed in partnership with scholars, teachers, and museum curators? With the emergence of Ubisoft's Discovery Tour series, with guided learning developed in consultation with two McGill doctoral students, we see firsthand how video games can be both educational and fun.
Discovery Tour: Viking Age is a unique interactive experience where players can learn about the history and traditions of the Viking and Anglo-Saxon worlds. McGill Education and Counselling Psychology doctoral students, Chu Xu and Robin Sharma have been collaborating with Ubisoft to create the accompanying teachers' guides to the Discovery Tour quest and exploration games; non-violent, scientifically validated educational experiences that dive deep into the traditions and cultures of the time periods presented in the Assassin's Creed games. The team's latest venture, Discovery Tour: Viking Age, takes place in the Assassin's Creed Valhalla universe. The curriculum guide will be accessible for free worldwide, in English and French with the goal of helping educators to adapt the games for their usage in varied teaching contexts.
Supervised by McGill Associate Professor and Learning Sciences expert, Dr. Adam Dubé, Chu and Robin are members of McGill's Technology, Learning, and Cognition Lab (TLC) which studies educational technology to better understand what makes effective learning tools. One of the highlights for student researchers within TLC is the chance to work alongside "EdTech" companies and develop the scholastic facets of online games and apps. Both Chu and Robin previously worked on the digital curriculum guides for the Ancient Egypt and Ancient Greece iterations of Ubisoft's Discovery Tour series. 
Once a mathematics teacher, Robin Sharma spent three years working as a Gaming Curriculum Developer in Delhi, India, for UNESCO Mahatma Gandhi Institute of Education for Peace and Sustainable Development.  "My primary role was to design curriculum guides and courses around existing digital games, so, I already had some experience", commented Robin. Chu Xu, originally from China, studied cognitive psychology before pursuing her PhD at McGill and although claims not to be much of a gamer, she is passionate about exploring how video games can be better harnessed as vehicles for learning. "I view gaming as more than an entertainment activity; it's also an industry with high potential for widening the understanding of our world, helping us to create meaning ― especially when you play a good game", described Chu whose thesis project is to create the curriculum guide for Discovery Tour: Viking Age. "The guides are teacher support materials for classroom implementation of game-based learning. Educators are able to use the Discovery Tour curriculum guides to curate the right content, lesson activities and resources for themselves, enabling teachers to create custom lesson plans based on their needs." 
Although Ubisoft launched its game in October 2021, the accompanying curriculum guide is still evolving as it undergoes beta testing in classroom settings, locally and internationally. "Iteration and case studies are so important for the right development of these tools", commented Maxime Durand, Ubisoft World-Design Director in explaining the McGill students' roles in the testing process. "We're collecting data from teachers online, trying to build a bridge to facilitate the transfer between game design and teachers' adoption", elaborated Chu Xu. Plans are currently underway to implement further testing at Trafalgar School for Girls this semester. McGill Faculty of Education and Trafalgar announced its CoLab partnership last spring; a collaboration which will involve the two entities working together on more hands-on education research projects thus providing new opportunities for innovative experiential learning for all involved.
In playing Discovery Tour, the high school students will delve into first-person fiction-based quests in re-enacted historic settings, with the gameplay narrative aimed at helping players empathize with human life in these past civilizations. "Discovery Tour games introduce many facets of an ancient civilization, so nearly every discipline in academia is present," Chu noted of the cross-curricular use of the digital pedagogical guide. The curriculum map enables teachers to select a learning discipline, including science, social science, math, language and literacy, arts, and 21st Century competencies. With the gaming experiences geared towards a wide range of youth, the McGill team needed to plan for customized activities and lesson plans based on the field of study and the grade level of the students. They also curate sample lesson plans for educators. 
Chu describes the endgame in the simplest terms: "The ideal situation is that learning and fun are the same thing. In other words, playing is learning, and learning itself is interesting and worthwhile."