News
MIIE hosts undergraduate students from Zayed University for a Summer Academy focusing on solving sustainability challenges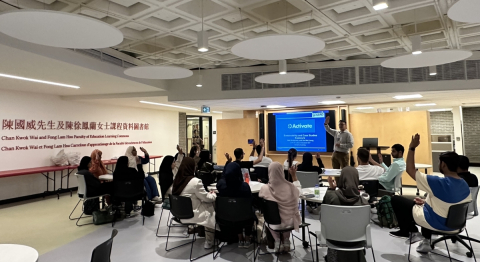 The McGill International Institute of Education (MIIE) welcomed 20 undergraduate students and three chaperones from the Zayed University in the United Arab Emirates to a two-week MIIE Summer Academy from June 26 to July 7, 2023.
The main goal of this Academy was to: a) reinforce participating students' perspective on sustainability and United Nations Sustainability Development Goals ("UN SDGs"); b) through team-work, actively engage them in formulating solutions to select problems; and c) through heightened awareness, better prepare them for the forthcoming COP 28 meeting to be held in the UAE.
The core of the program consisted of an adapted version of Activate, a dynamic leadership program, goLEAD initiative, developed by Dr. Nate Quitoriano, a professor in the Department of Materials Engineering of the Faculty of Engineering. Students were placed into interdisciplinary teams. Each team identified a sustainability issue in the UAE, and with guidance from Profesor Quitoriano and his teaching assistant and a research librarian, identified root causes and proposed viable solutions for the problem. The small group interactive process highlighted the importance of interdisciplinary collaboration when tackling real-world challenges.
Complementing Activate, the program included a guest lecture on the sustainability efforts around campus by the McGill Office of Sustainability and a tour of a platinum-certified research lab under McGill's in-house sustainable lab certification program. In addition, the students attended a private workshop and consultation hours with a liaison librarian at McLennan Library where they honed their literary research skills.
Outside of the academic schedule, the group took part in an orienteering exercise on campus, and participated in cultural activities around Montreal to discover the city's unique offering. The cohort also visited Ottawa at the invitation of the Embassy of the UAE in Canada.
The MIIE Summer Academy was gold-certified McGill Sustainable Event by the McGill Office of Sustainability. As part of their actions to reach gold status, MIIE staff ensured students were informed on environmentally responsible practices at McGill, gifted reusable McGill drink bottles to program participants to avoid single-use plastic water bottles and complied with sustainable best practices for event planning.
In the words of one of the participants, "The experience I had at McGill University was phenomenal. The program provided a stimulating environment where I felt motivated when working with my group on our project. I learned a lot through this program and I am very happy to be part of it!"
For more information about MIIE and its programs, email miie.education [at] mcgill.ca.