News
McGill takes 2nd and 3rd place at L'Oréal Brandstorm Canada 2023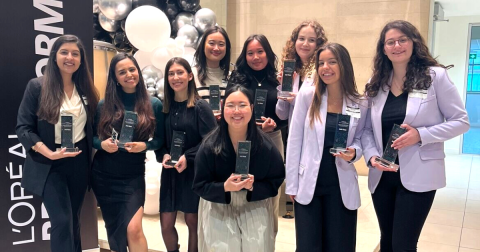 After months of hard work and 'brandstorming', two McGill teams took the podium at the 31st annual L'Oréal Brandstorm National Competition in Canada, competing against top teams from across the country. BCom students Laetitia Doumet, Jo-Esther Abou Haidar and Andrea Salem (far right) placed 2nd, while Master of Management in Retailing (MMR) students Madison Laxer, Aditi Bali and Supreet Kaur (far left) took 3rd place.
L'Oréal Brandstorm is a Global Innovation Challenge, an initiative of the L'Oréal Group that aims to offer the participants an experience and an opportunity to innovate in the beauty-tech industry. This year's theme invited participants to invent augmented products, services, experiences, and solutions, empowered by new technologies: Augmented and Virtual Reality, Gaming, Artificial Intelligence, and the Metaverse (and associated technologies such as NFTs and Digital Collectibles).
Congratulations to the teams and their mentor and coach, Peg Brunelle!