News
McGill launches a free new educational guide for people living with dementia and their care partners, thanks to a generous donation of $250,000 from the Grace Dart Foundation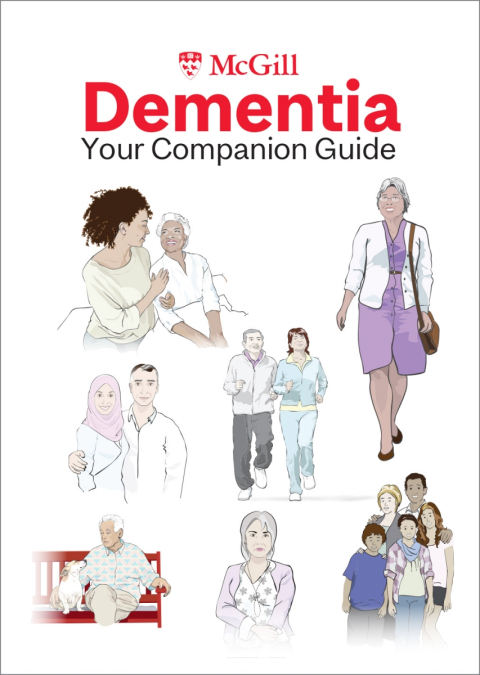 Published:
20
October
2021
Montreal, October 20, 2021 - A person who receives a life-changing diagnosis of dementia has many questions. What changes can I expect to my daily routine? How long can I remain independent? How will this affect my relationship with my loved ones?
A free new educational resource, "Dementia, Your Companion Guide", was designed to help provide answers. With engaging illustrations and a friendly writing style, this approachable Guide covers a wide array of topics to assist both the person living with dementia (PLWD) and their care partners. It includes information on the science and progression of dementia as well as practical advice on safety and self-care.
The Guide was created by a multidisciplinary team at the McGill University Dementia Education Program (DEP) in the Faculty of Medicine and Health Sciences (FMHS). The content was provided by the Program's founder and former care partner Ms. Claire Webster, geriatrician Dr. José A. Morais and neurologist Dr. Serge Gauthier, along with partners from the McGill University Research Centre for Studies in Aging, the Division of Geriatric Medicine, the School of Physical and Occupational Therapy, and the School of Social Work.
The DEP worked closely with the Office of Education Technology and E-learning Collaboration for Health, based at the Steinberg Centre for Simulation and Interactive Learning, to bring the project to life by applying principles of instructional design and leveraging educational technology.
Dr. Gauthier, recognized internationally for his groundbreaking research and expertise in the field dementia, provided oversight to ensure that the content of the Guide accurately reflects the diagnostic process, the progression of the disease and the treatment options. "This Guide will be of interest to many people as it addresses common complaints about memory and cognitive decline as we age. It includes lots of examples and friendly illustrations, and it's not technical – it was written in a way that is easy to understand," he explains.
Financing for the Guide was graciously provided by the Grace Dart Foundation, a longstanding organization that supports the well-being of the elderly in the greater Montreal area. Their generous donation of $250,000 supported the creation, publication and translation of this booklet.
"We are proud to support McGill University's FMHS and the DEP with this innovative new Guide that is geared toward people living with dementia and their care partners," says Ms. Elise Nesbitt, President & Chair of the Grace Dart Foundation's Board of Directors. "This Guide will provide desperately needed information to so many people."
"When I first approached McGill to talk about how we could work together to educate and empower people living with dementia and their care partners, my dream was to create a 'prescription of care' so that the people who came after me would be better informed about this condition. Today, thanks to the generosity of the Grace Dart Foundation and the support of the McGill FMHS, that dream has come true," expresses Mrs. Webster.
Dr. Morais is eager to share this information with his patients. "Alzheimer's disease and other forms of dementia are very prevalent, affecting all aspects of family life, and the symptoms are constantly evolving. This essential resource provides PLWD and their care partners with the concrete information they need to understand this condition and keep them safe, and it's available in an accessible format that they can refer to often as the disease progresses."
---
How to get a copy of Dementia, Your Companion Guide
Hardcopy – The printed version is available to purchase on Amazon.ca in English (www.amazon.ca/dp/1772470287) and in French (www.amazon.ca/dp/1772470317), with all proceeds going to support the McGill Dementia Education Program initiatives. 

Over the coming year, the guide will be made available in additional languages to reach a wide and diverse audience.
Meet the team that led this initiative.
For general information regarding the McGill Dementia Education Program or this Guide, please email: dementia [at] mcgill.ca.
Sign up for the McGill Dementia Education Program newsletter to stay connected and to hear the latest news.
---
MEDIA CONTACTS:
To request media Interviews with members of the McGill University Dementia Education Program:
Diane Weidner, Communications and Events Officer
McGill Faculty of Medicine and Health Sciences
Cell: 514-264-4361
Email: diane.weidner [at] mcgill.ca
To request media Interviews with the Grace Dart Foundation:
Annette Kopec Brawley
Surrey House Communications
Cell: 438-881-5609
Email: annette [at] surreyhousecommunications.com
About the Grace Dart Foundation
The Grace Dart Foundation provides love and care to the elderly in the greater Montreal area. The Foundation supports a warm and personal environment for the well-being of the elderly through its various donation efforts, in line with the following five areas of giving: Basic Needs, Loneliness & Isolation, Socialization & Personal Development, Cognitive Disorders, and Living Environment. For more information, please visit www.fondationgracedart.org
About McGill University
Founded in Montreal, Quebec, in 1821, McGill University is Canada's top ranked medical doctoral university. McGill is consistently ranked as one of the top universities, both nationally and internationally. It is a world-renowned institution of higher learning with research activities spanning three campuses, 11 faculties, 13 professional schools, 300 programs of study and over 40,000 students, including more than 10,200 graduate students. McGill attracts students from over 150 countries around the world, its 12,800 international students making up 31% of the student body. Over half of McGill students claim a first language other than English, including approximately 19% of our students who say French is their mother tongue. For more information, please visit www.mcgill.ca