Event
Talent-Venture Match Event (Engine X CLIP)
Wednesday,
February
8,
2023
17:00
to
19:00
McGill Engine, 3450 University Street room 5, Ground Floor, Montreal, Quebec, CA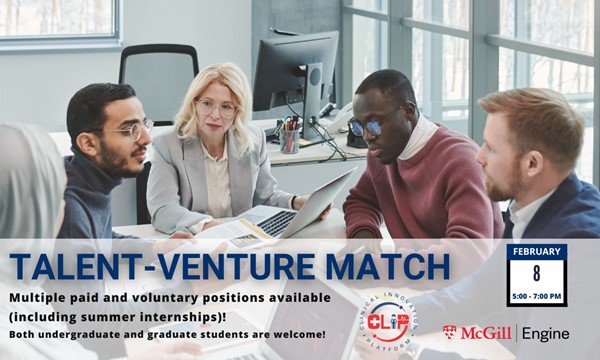 This event is co-hosted with Clinical Innovation Platform (CLIP). CLIP HealthTech ventures will be present to meet talent, both undergraduate and graduate students are welcome. Paid and voluntary positions available (including summer internships)!
Areas: Artificial Intelligence/ Biochemistry/ Bioengineering/ Business Development/ Computer Vision/ Data Analytics/ Full Stack Software Development/ Machine Learning/ Marketing/ Mechanical Engineering/ Signal Processing/ UI/UX/ Web Development & MORE!
---
The McGill Engine organizes Talent-Venture Match events over each semester. We partner with different organisations and student groups across McGill to host Talent-Venture Match.