Event
Sex- and gender-based analyses using existing data without a gender measure: Is it possible?
Wednesday,
January
11,
2023
12:00
to
13:00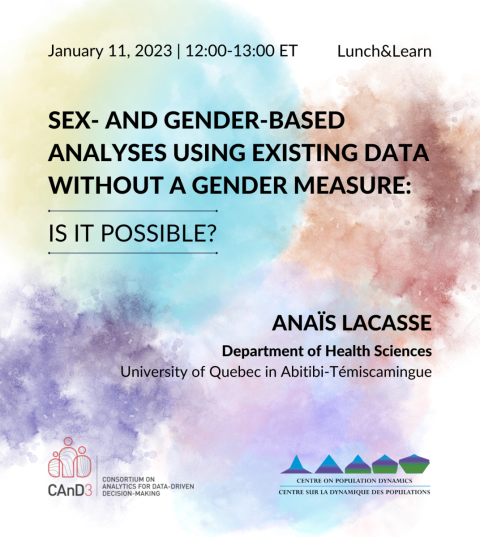 While the analysis of administrative databases and surveys is vital to understanding population health and health inequalities, many of these datasets do not include gender measures. This session will explore the challenge of conducting sex- and gender-based analyses when self-reported gender measures are unavailable. Overcoming this challenge will be important for inclusive and accountable public health evidence-based decision-making.   
Agenda
12:00-12:05 PM Welcome & Introductions
12:05-12:45 PM Lecture session
12:45-12:55 PM Moderated Q&A
12:55-1:00 PM Closing and upcoming sessions
Location
This is an online webinar hosted on Zoom. To receive details to enter the event, please register. 
Speakers
 

 

Anaïs Lacasse, PhD, is a full professor and chronic pain epidemiologist in the Department of Health Sciences of the University of Quebec in Abitibi-Témiscamingue (Quebec, Canada). She teaches epidemiology and biostatistics in undergraduate and graduate nursing and health programs since 2009. Her research program aims to better understand the treatment of chronic pain in the real-world context and in large populations. She explores three complementary research axes: 1) The healthcare trajectories of people living with chronic pain, 2) The use of drugs for the treatment of chronic pain, and 3) The linkage and validation of large databases and measurement scales for research in this field. Sex & gender as potential determinants of chronic pain treatment constitutes an angle of her research program. She is actively involved in several research networks, especially as the Co-Director of the Quebec Pain Research Network (QPRN) and as the Scientific Director of the TorSaDe Cohort.

 
What are Lunch&Learn's?
The CAnD3 Lunch&Learn series is designed to introduce our Fellows, team members, and partners to emerging research on topics related to population dynamics and population aging. These modules will cover the Four CAnD3 Population Aging Axes: (1) family and social inclusion; (2) education, labour and inequality; (3) migration and ethnicity; and (4) wellbeing and autonomy.
CAnD3 Newsletters
Sign up for our newsletter to keep up to date with CAnD3 events.