Event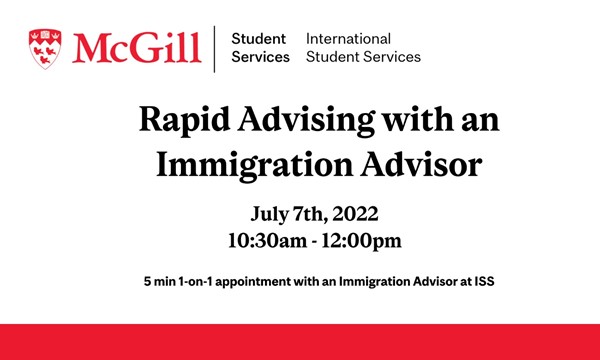 Select a 5-minute time slot and ask your immigration question to an ISS advisor.
DIRECTIONS: Please answer all the mandatory questions in the RSVP section. A day prior to the session, you will receive an email with directions to sign up for your 5-minute advising time. Please sign up for ONLY ONE 5-minute session. The day prior email will also contain the Zoom meeting link for the session. All sessions will be terminated at the 5-minute mark.
Only questions related to your temporary resident documents required to study at McGill will be answered. Please do not sign up for the rapid advising session if you have questions on permanent residence, admission to McGill, etc.
Online Event Instructions
Meeting instructions will be sent on the day of the event