Event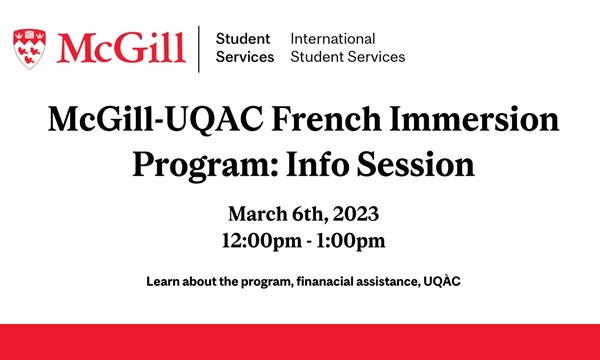 Come find out more about the McGill-UQAC French Immersion Program, 2022: Monday, March 6th, 12:00pm - 1:00pm ET
About the McGill-UQAC French Immersion Program
A partnership with the Deputy Provost for Student Life and Learning, International Student Services, The Scholarships and Student Aid Office, and the University of Quebec at Chicoutimi
Accepted students receive a $3,000 award to participate in the spring or summer program*

Spring, Summer and Innu Programs: $4335.12

5-week experiential opportunity at the University of Quebec at Chicoutimi
18 hours of French classes each week
Cultural activities (ex. museum visits, cooking, improv, film, dance, etc.)
All meals are included during the 5-week program.
Students stay with a host family and share on average 14 meals per week with the family.
*Find out more about additional funding options at this Information Session
Online Event Instructions
Meeting link and instructions will be sent a day prior to the session.