Event
McGill Cares: Living Well with Dementia
Wednesday,
May
26,
2021
12:00
to
12:30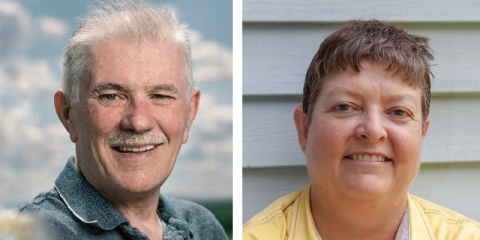 Join us on May 26, 2021 at noon for the next webcast in our biweekly series, McGill Cares, designed to support informal caregivers. During candid, 30-minute interviews with leading experts, Claire Webster, Alzheimer Care Consultant and Founder of the McGill Dementia Education Program, will explore topics related to caring for a loved one with dementia.
Living Well with Dementia
Mary-Beth Wighton is an advocate for people living with dementia and a pioneer to advance the rights of persons with dementia. Ms. Wighton is involved in numerous cross-sector projects involving research and policy development, including being a member of the Ministerial Advisory Board on Dementia and of the Alzheimer Society of Canada Dementia and COVID-19 Task Force. She is co-chair of Dementia Advocacy Canada and is a part-time Behavioural Supports Ontario Lived Experience Facilitator. She has just released her first book: Dignity & Dementia: Carpe Diem. My journals of living with dementia.
Roger Marple has made it his mission to dispel myths about the disease and the stigma associated with dementia. He demonstrates in his life that, despite the challenges, it is possible to live well with dementia. Mr. Marple is a member of the Alzheimer Society of Canada's advisory group to help raise awareness of the needs of people with dementia, including the specific needs of people living with young onset and/or early-stage dementia. He also serves on the board of directors of the Alzheimer Society of Alberta and Northwest Territories and is active in supporting dementia research in Canada.
Ms. Wighton was diagnosed in 2012 with probable frontotemporal dementia at the age of 45 and Mr. Marple was diagnosed in 2015 with Alzheimer's disease with vascular components at the age of 57. They will share what it's like to receive such a diagnosis and how they have come to terms with it and continue to live full and meaningful lives. They will also talk about how their advocacy work on behalf of persons living with dementia contributes to their own well-being.
This episode of McGill Cares is made possible thanks to a donation from Ryan and Dominique Lynam in memory of their wonderful nanas, Stella Pearson and Muriel Wilson.
This webcast is free and open to the public.
Click here beginning at 12:00 pm EDT on Wednesday, May 26.