Event
Hybrid Event | Sri Lanka medical manuscripts as sources for medical history and the revitalization of traditional knowledge
Tuesday,
October
17,
2023
12:00
to
13:00
McIntyre Medical Building
Osler Library of the History of Medicine, 3rd floor, 3655 promenade Sir William Osler, Montreal, QC, H3G 1Y6, CA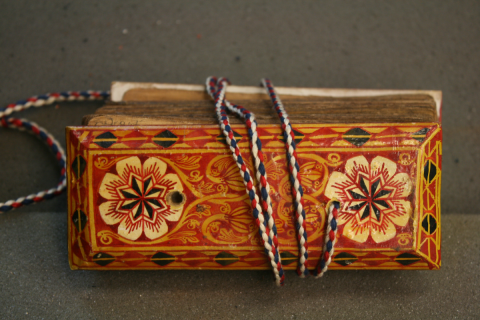 La version française suit
Join the McGill Library in welcoming Danister Perera for a talk on the Olas in the Osler and Blacker Wood Collections. Please note, this talk will take place in English. 
The Osler Library contains 20 olas (palm leaf manuscripts) from Sri Lanka on medical subjects written in Sinhala, Sanskrit, and Pali. There is also a collection of around one hundred Sri Lankan olas in the Rare Books and Special Collections department of the McGill Library, many of which deal with medical or zoological topics. These manuscripts date from between the seventeenth and nineteenth centuries and were collected in the 1920s and 1930s by Dr. Casey Wood. These manuscripts are not yet available digitally and most are not catalogued. While some are copies of well-known texts, others are rare or otherwise unknown. In this talk, Dr. Perera will discuss the contents of the olas at McGill, noting some interesting features of the manuscripts. He will place these manuscripts in the wider context of efforts in Sri Lanka to digitize and catalogue medical manuscripts, as a key part of the nation's cultural heritage.  
About the Speaker: Dr Perera's background is that of a practicing Ayurvedic doctor. He has a master's degree in plant ethnography and an MPhil in social anthropology from the University of Kelaniya. He has extensive experience in transcribing, translating, and studying medical manuscripts. As well as his academic studies, Dr. Perera is actively involved in efforts to preserve and protect cultural heritage, including through his work with the Intangible Cultural Heritage advisory board of Arts Council of Sri Lanka. 
In-person Location: Osler Library, 3rd floor, 3655 Promenade Sir-William-Osler, Montreal, Quebec H3G 0B1
Online attendance is an option. 
All are welcome, RSVP is required.
---
Les manuscrits médicaux du Sri Lanka, sources d'histoire médicale, et revitalisation des savoirs traditionnels
Joignez-vous au personnel de la Bibliothèque de McGill pour accueillir Danister Perera, qui offrira une conférence sur les Olas des collections Osler et Blacker Wood. Veuillez notez que cette conférence se déroulera en anglais. 
En effet, la Bibliothèque Osler renferme une vingtaine d'olas, soit des manuscrits rédigés sur des feuilles de palmier; originaires du Sri Lanka, ces textes portant sur des sujets médicaux sont rédigés en singhalais, en sanskrit et en pâli. On retrouve aussi une centaine d'olas, dont la plupart traitent de sujets médicaux ou zoologiques, parmi les Livres rares et les collections spécialisées de la Bibliothèque de McGill. Ces manuscrits sont datés d'entre le XVIIe et le XIXe siècle, et ont été rassemblés dans les années 1920 et 1930 par le Dr Casey Wood. Ils n'ont pas encore été catalogués et ne sont donc pas disponibles en format numérique. Si certains sont des copies de textes bien connus, d'autres sont rares ou ont été peu étudiés. Cette présentation de M. Perera portera sur le contenu des olas de la collection de McGill et soulignera certaines caractéristiques intéressantes des manuscrits. Enfin, il les replacera dans le contexte d'un travail plus large visant à numériser et à cataloguer les manuscrits médicaux du Sri Lanka, qui font partie intégrante de l'héritage culturel de ce pays.
Portrait du Conférencier:
Danister Perera est praticien de la médecine ayurvédique. Titulaire d'une maîtrise en ethnographie des plantes et d'une maîtrise de philosophie en anthropologie sociale de l'Université de Kelaniya, il a une riche expérience de traduction, de transcription et d'étude de manuscrits médicaux. En parallèle de ses recherches universitaires, Danister Perera participe activement aux efforts visant à préserver et à protéger les legs culturels, notamment par son travail au sein du conseil consultatif sur l'héritage culturel du Conseil des arts du Sri Lanka.

Emplacement : Bibliothèque Osler, 3ème étage, 3655 Promenade Sir-William-Osler, Montreal, Quebec H3G 0B1
Il est possible d'assister à l'événement en ligne. 
Bienvenue à toutes et à tous; merci de répondre à l'invitation.