Event
DCAT Career Seminar: Demystifying Your Health/Life Sciences Career Options
Thursday,
September
21,
2023
09:30
to
11:00
RI-MUHC, Glen Site, Room EM1.3509, 1001 Decarie Blvd, CA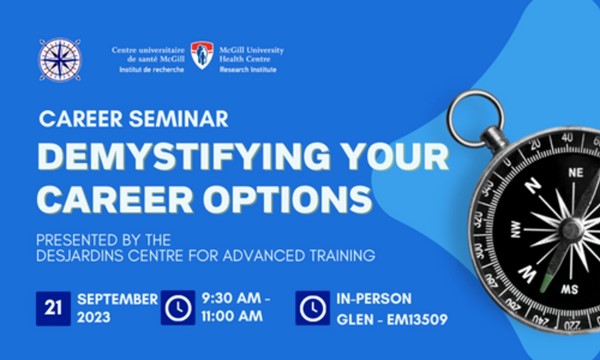 How much do you really know about careers in the life/health sciences? Join us for a live, interactive seminar where we will explore the various academic and industrial career options that MSc and PhD holders can pursue.
What to expect:
A breakdown of career options for graduate degree holders
A 1-hour seminar presented by Dr. Emily Bell, PhD – Certified Career Educator
A 30-minute optional open group discussion
________________________________________
Date: Thursday, September 21, 2023
Time: 9:30 - 11:00 a.m.
Location: In-person, EM1.3509, Glen site
Registration: Required
________________________________________
Organized by: Desjardins Centre for Advanced Training of the RI-MUHC
To Register : 2023 Career Seminars Presented by the Desjardins Center for Advanced Training Survey (surveymonkey.com)