Event
Being Black at McGill Workshop Series
Tuesday,
October
19,
2021
14:00
to
Tuesday,
November
23,
2021
14:00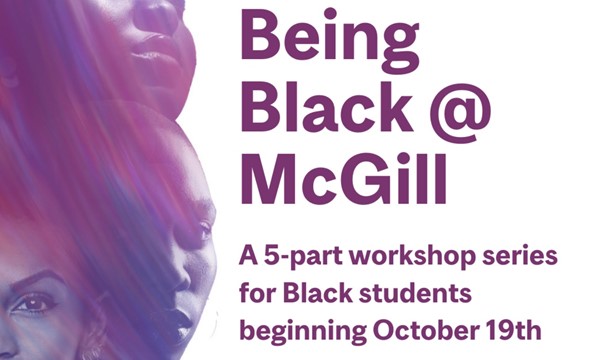 Being Black @ McGill is a five-part workshop series designed to create a safe environment where Black students at McGill can discuss their experience of race and how the institution impacts them.
Students will have the opportunity to unpack identity and socialization. They can share their narratives, while learning both about themselves, and the impact racism and discrimination can have on their mental health. Students will discuss the barriers they face and the factors that have either hindered or bolstered their experiences. Finally, they will discuss how they can create spaces of resistance and resilience for themselves.

We will be capping attendance at twelve (12) participants to allow for an intimate, consistent cohort who can commit to attend all workshops. If you cannot attend but are interested in BBM's programming, please fill out this form.
The five workshops are:
- October 19 @2-4pm -Session One: Who We Are

- October 26 @2-4pm -Session Two: Roots 

- November 9 @2-4pm -Session Three: A Story Untold 

- November 16 @2-4pm -Session Four: Staying Afloat
- November 23 @2-4pm - Session Five: A New Day


IMPORTANT: Students must register with their official McGill email address in order for the registration to be valid. 
Interested but can't attend the series? Fill this form out to stay in the loop for our future programming!
The content development for this series was led by Khan Bouba-Dalambaye, M.A., in collaboration with Teaching and Learning Services (TLS), Our Shared Spaces, and Student Services.
Accessibility: Teaching and Learning Services (TLS) and Our Shared Spaces (OSS) are committed to providing educational content that is accessible to as many audiences as possible, regardless of ability. In the COVID-19 context, our workshops are provided via Zoom with automatic transcription enabled. Our PowerPoints go through an accessibility-checker, and if instructions are provided, they are given verbally and via written text. We provide content warnings throughout the workshop as needed. As a participant, you will have ample opportunity for varied engagement, some examples are via the Zoom chat function, breakout rooms, listening, and verbally in the larger group. There are no scheduled breaks but we encourage participants to take them as needed.
If you have any specific accessibility needs for an Our Shared Spaces workshop, please email oursharedspaces [at] mcgill.ca two business days prior to your workshop, or as soon as possible, so that we can see if arrangements can be made.