Spend a day neighbourhood hopping in Montreal and you'll feel like you just got back from an around-the-world adventure.
One minute you're eating bagels and flipping through thrift store threads in a place that feels a lot like Brooklyn. The next, you're sitting at a rooftop bar overlooking cobblestone streets and 17th century architecture wondering how the heck you're not in Paris right now.
And therein lies the magic of Montreal—a fascinating fusion of North American energy and European charm that's unlike anywhere else in the world. Safe, affordable and brimming with culture, the city is made up of a diverse and eclectic medley of neighbourhoods, each with its own unique personality and flavour.
"What I like most about Montreal's neighbourhoods is that most of them feel like small towns or even villages," says Renaud Roussel, who earned an MA in French literature at McGill in 2013. Originally from Grenoble, France, Roussel says Montreal "is basically the best of two worlds: the feel of a small town in a big city."
Consistently ranked among the top student cities and best places to live on the planet, Montreal more than earns its stripes as a bucket list destination. Let's take a tour through some of the city's coolest quartiers and see what all the hype is about.
Old Montreal (a.k.a. the Old Port)
No trip to Montreal would be complete without a visit to the Old Port, the birthplace of la Belle Province's biggest city. One of the prettiest and most photographed spots in town, the area is famed for its European vibes and historical architecture.
Kick off your tour on rue Saint-Paul, a quaint, cobbled street lined with art galleries, boutiques, cafés and rooftop bars. Next, take a walk along the banks of the Saint Lawrence River, home to the original Cirque du Soleil Big Top, an observation wheel offering 360-degree views of the city, the Montreal Science Centre and Bota Bota, a boat-turned spa where you can people-watch from the Jacuzzi on deck.
Not to miss: Line up for lunch at Olive & Gourmando, check out the Instagrammable hidden alleyway behind La Maison Pepin and catch an interactive art exhibition at Phi Centre.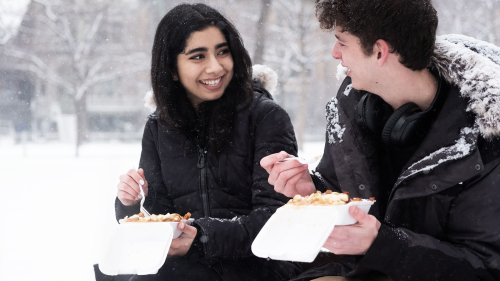 The Plateau
Next stop: Plateau Mont-Royal (as it's officially known), the city's most artsy quarter. This is the Montreal you've probably seen on postcards with its colourfully crowned duplexes, spiral staircases and graffiti-decorated buildings.
"If you're into the arts, there's always something going on in the Plateau," says Sabrah Khanyari, a fourth-year Psychology undergraduate from Delhi, India. "I also really love all the cafés there."
Start with a stroll along the area's busiest streets—Avenue Mont-Royal (which leads right to the mountain), boulevard Saint-Laurent ("The Main") and Rue Saint-Denis—packed with quirky boutiques, indie record stores and Parisian-style terrasses. When you're tired from all that walking, head to one of the prettiest parks in town—Laurier or Lafontaine—to picnic and play petanque with the local crowds.
Not to miss: Get your smoked meat fix at the legendary Schwartz's Deli, grab a cocktail at 50s-style bar La Distillerie, and stop for a late-night snack at the 24-hour poutinerie, La Banquise.
Mile End
A short walk to the north and you'll land in Mile End, an unapologetically hip, Williamsburg-esque experience. This is the place where the band (and McGill alum) Arcade Fire was formed, where the famed author Mordecai Richler was raised, and where aspiring creatives of every kind come to hone their crafts.
Begin your tour with a visit to Fairmont Bagel, a Montreal institution. Order yourself a fresh half-dozen and eat them on the go as you wander along Rue Bernard and Rue Saint-Viateur, home to carefully curated vintage shops, independent bookstores and next-level lattes.
Not to miss: Browse the graphic novels at Drawn & Quarterly, catch a live music show at Casa del Popolo, and join in a table tennis tournament over drinks at Ping Pong Club.
Downtown
Heading back south, it's time to explore Centre Ville, the city's commercial core that's crammed with creativity. This is where Montreal's most popular art museums reside. It's also where you'll find the city's entertainment district, Quartier des Spectacles, the site of internationally celebrated annual events like Jazz Fest and Just for Laughs.
Start by going on a shopping spree along stylish rue Sainte-Catherine, stopping to refuel at the new Time Out Market beside the Eaton Centre, where you can sample affordable eats from some of the city's top chefs. Then take a walk through the world-famous Underground City before heading to historical rue Sherbrooke, home to McGill's downtown campus and the must-visit Montreal Museum of Fine Arts.
Not to miss: Get a birds-eye view of the city from the top of Place Ville Marie, laugh till your belly hurts at The Comedy Nest, and wander down to the Gay Village to watch a live drag show at Cabaret Mado.
Saint-Henri
All signs point west to the last stop on our tour and one of Montreal's best hidden gems, Saint-Henri. Once an industrial hub, the area has resurged in recent years as one of the hippest destinations in town, home to factories-turned-trendy lofts and a thriving food and nightlife scene.
First up, head to Atwater Market to get a taste of the local flavours, stopping for lunch at Satay Brothers—an outdoor food stall serving up authentic Singaporean street eats. Cross the street and rent an electric boat or kayak to ride along Lachine Canal, then take a stroll along rue Notre-Dame where you'll find a wide variety of antique stores and some of the best bars and eateries in the city.
Not to miss: Pick up a burrito at Tejano BBQ, grab a beer on the Canal Lounge floating bar, and walk over to the neighbouring Little Burgundy district to catch a concert at Corona Theatre.
Montreal is a small big city, making it easy to get around. Throw on your walking shoes, grab a BIXI bike or hop the Metro and have fun exploring all that the multicultural metropolis has to offer.
"It's important to try and get out of just being around McGill," says Khanyari. "Montreal has so many different things to offer."