Rosalyn Dunkley recalls "learning about tools and construction. It was a great experience – I learned a lot."
For Yuval Adler, "the whole thing was a giant crash course in all sorts of things about architecture that I never knew… like landscape design. I enjoyed that immensely."
Joel Friesen adds: "I'm a Manitoba boy; it was my first time outside Montreal. I had fun, it was a blast."
As for Remy Fortin, "I liked the concreteness of it all... a real project, real material, real money, real purpose and real people who are going to benefit from it outside of the academic bubble we find ourselves in sometimes… The structure is treated lumber from Mont-Joli and the cedar covering is from Métis-sur-Mer. The steel connections were custom-made in Montreal."
It pretty well defined experiential learning, they agree.
What brought together the four students in music and architecture - two disciplines that don't often intersect - was their common experience in 2019 helping to build the Bicentennial Stage and Pavilion in Jardins de Métis/Reford Gardens, a national historic site with a long association with McGill University.
Dunkley, Friesen and Fortin all recently obtained their Masters in architecture at McGill's Peter Guo-hua Fu School of Architecture, while Adler is a third-year PhD student in Music Technology at the Centre for Interdisciplinary Research in Music Media and Technology (CIRMMT).
The stage is designed to be moved eventually to McGill's lower campus, where the sleek, technologically sophisticated wood-and-steel structure could host events celebrating McGill's bicentennial. The unpredictability of COVID-19 has prevented organizers from drawing up a detailed schedule. But when conditions permit, events could include music concerts, poetry readings and theatre mini-shows – all of which would be subject to public-health directives in place at the time.
Rock music or poetry readings
The stage with a "funky shape" – Fortin's term – is an eye-catching, acoustically state-of-the-art design that students conceived, designed and built, co-led by Michael Jemtrud, Associate Professor of Architecture, Kiel Moe, Gerald Sheff Chair in Architecture, and Isabelle Cossette, CIRMMT's director at the time. Postdoctoral fellow Florian Grond was the hands-on CIRMMT researcher who incorporated the audio components.
The double-sided stage's versatility and eight loudspeakers providing 3D sound will make it possible to present a full range of events: rock bands, mini-plays or intimate poetry readings.
"Even though we in architecture didn't know exactly what Yuval was doing – it's all very technical – we still made sure we got together and made sure it was all being designed as one piece rather than the music folks doing the audio components and us doing the architecture," Friesen says. "It was conceived as one collaboration from the beginning. We didn't have any acoustics training, so it was a great opportunity to learn a lot from the music folks. They brought us to the CIRMMT lab and we got to see all their toys."
"It was so interesting to be part of both the design and the build," Dunkley adds. "It was one of the most memorable projects that we followed all the way from the beginning to the end. That was critical. You meet new people at the Gardens, and you learn so much from them."
Deeper relationship with the environment
Hands-on learning was not confined to designing concepts and handling materials.
"It was a huge thing for an architecture student like me to work directly with materials, design corrections on the go and see how a job site works," Friesen says. "But Michael also talked about budgets, and that's not usually what's covered in an architecture curriculum. I hope students appreciated that. I know I did."
"One of the reasons for being up (in Grand Métis)," Jemtrud explains, "is trying to promote a deeper relationship with and understanding of the environment for our students so they can take that into their practices."
Staying in harmony with the environment is obvious to people in outlying regions, he adds.
"They're farmers, they're permaculture advocates, they have their relationship with the [St. Lawrence] river which is quite profound… So it seemed like a logical thing to do; we wanted to get involved with rural communities around climate change research: the St. Lawrence coastal erosion problems, the economic challenges, the natural resources. It all seems to fit in well with our own research trajectories."
Students made the meal
Jemtrud and Alexander Reford, director of the non-profit organization that bears his name, have long discussed collaborating on a project for a sustainable community in the village of St. Octave-de-Métis.
"They've been trying to get McGill to participate for a long time (on sustainability projects)," Jemtrud says. "A lot of (landscape architecture) competitions out there have been won by McGill grads," he notes, and the Visitor Centre was designed by McGill grads.
Reford says that "we were there to guide students to their own success." The stage let them "touch wood, feel wood, hammer and nail, saw wood, understand its elements and components."
"But it's like going to the grocery store and putting food on the counter. The students made the meal."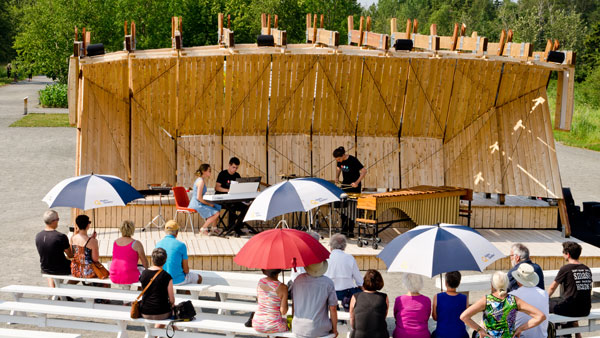 Jardins de Métis has used the stage extensively since its 2019 launch. "[It's] worked extraordinarily well as a stage from a user point of view, but is also attractive and aesthetic from an architectural point," Reford says. "It hit every objective as a learning event, but also as an aesthetic experience for the musicians, a great place from which to play."
Reford hopes to expand the relationship with the university by connecting rural communities in need of local infrastructure with McGill's expertise in design.
"It could be a barn, a shed, a workshop for a school, a chicken coop, park infrastructure – or a staircase leading to a lookout. A lot of people want those because we have amazing views up here."
The stage will be disassembled eventually and placed on a flatbed truck bound for Montreal, Reford adds.
"I'm glad I'm not handling that. It's a job for smart McGill architects."