Event
Unlocking the cosmos Dr.Shane Jacobs Talk
Thursday,
September
28,
2023
18:00
to
20:00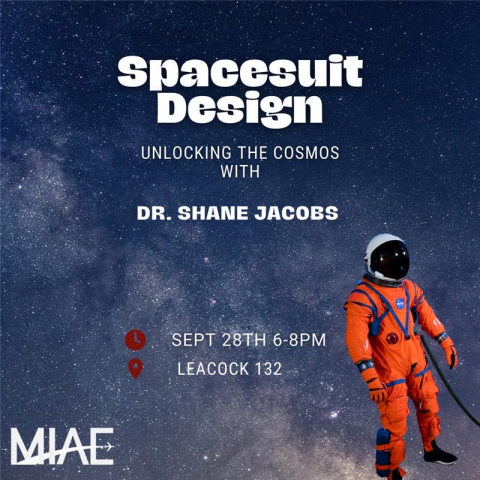 "Spacesuit Design: Weaving Biomechanics, Engineering, Material Science, and Human-Centered Design"
Date: September 28th
Time: 6:00 PM - 8:00 PM
Location: Leacock 132
Registration: No registration required!
Our guest speaker, Dr. Shane Jacobs, is a renowned McGill alumnus and currently the Design Manager at David Clark Company. With his academic foundation in Mechanical Engineering from McGill and a Ph.D. in Aerospace Engineering from the University of Maryland, he is a foremost expert in the realm of spacesuit design. During this talk, attendees will embark on a captivating journey exploring spacesuit design. Dr. Jacobs will delve into his experiences designing suits for esteemed organizations like NASA, Red Bull, Axiom, and others. It's a chance to see how the amalgamation of biomechanics, engineering, material science, and human-centered design plays a pivotal role in facilitating space exploration.