Our Biology Undergrads do research too!
Here are some of our fantastic undergraduate students and what they have been doing during the summer of 2023. These students are recipients of SURA, NSERC or Biology Research Awards.
Biology Summer Research Awards 2023
Gabriella Tai
I am a rising U2 student majoring in Biology, and minoring in Natural History. With a great passion for the outdoors, I have always been particularly interested in evolution and ecology, and hope to have a future in the conservation field. This summer, with the support of the Biology Research Award, I will be joining the Hargreaves Lab in travelling through Southern Ontario and surrounding states to study the endangered Lupinus perennis plant. I am thrilled to have the opportunity to gain hands-on experience in conservation and ecology research this summer.
Adam Farhat
As a first year at McGill Biology, it is an honour to contribute to the field at such an early stage in my studies and see first-hand the day-to-day lab work that has slowly pushed the world of science to reach these extraordinary heights. This summer, with the Gerhold Lab, we will apply molecular biology, genetic, and live-imaging techniques to study the effects of decreased insulin signalling on chromosomal fidelity during mitosis in C. Elegans. I am very excited to tackle this project and learn techniques that have become staples in all molecular biology labs, along with very advanced techniques specific to C. Elegans and the Gerhold Lab. Outside the lab, I plan to enjoy Montreal's summer weather and play as much pickup basketball as possible.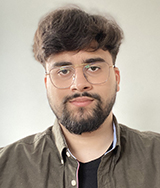 Rayaan Kazim Rizvi (Biology Research Award)
I am an undergraduate student who will be completing his major in Anatomy & Cell Biology this year. Throughout my degree, I have grown interested in learning about animal behavior, neuroethology, and neurobiology. Joining the Hendricks Lab, I will be exploring and studying the neurobiology and behavior of C. elegans under different environmental conditions and stimuli, with a focus on replicating the natural behavior of the model organism in novel laboratory media, which conventional media such as agar plates does not allow. I am extremely grateful and thrilled for this research opportunity given to me by the Biology Department through the EDI Biology Research Award and look forward to conducting research this summer.
Chanelle Lawson-Lartego
I am a final-year Physiology undergraduate graduating this Summer! I really enjoyed working in Dr. Tomoko Ohyama's lab last Summer through this award, and this year I wanted to gain more lab experience by working in another lab. For the Summer 2023, I have the opportunity to work with Dr. Alanna Watt and her welcoming lab members in the Watt Lab. I will be doing research on Autosomal Recessive Spastic Ataxia of Charlevoix-Saguenay (ARSACS), helping with image analysis of mice cerebellum slices to observe the abundance of Calcium channel 3.1 on torpedoes present on Purkinje cells' axons. I am very thankful for this opportunity and for all the knowledge it will allow me to acquire. Outside of the lab, this Summer, I hope to volunteer at the Jewish General Hospital, keep discovering all the great activities Montreal has to offer, and spend time with family and friends.