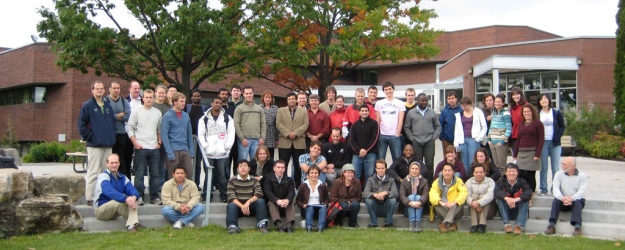 The BESS is an association of all undergraduate students registered in the BEng (Bioresource) program of the Department of Bioresource Engineering on the Macdonald Campus. The main objective of the Association is to develop and promote the program, and to facilitate the social well-being of the students enrolled in it. The executive is elected annually. You too can be part of it!
Events organized by the Association include the annual Oktoberfest and Turkey Roast dinners, as well as many other activities that are of interest to its members and other students on campus. The BEA also helps with the integration of new students and department recruitment. It is also involved in ensuring that students have a great academic experience and interesting employment opportunities. Competitions attended by its members include the Engineering Games, the Quebec Engineering Competition and the Canadian Engineering Competition.
The BEA also acts as a link between the students and the engineering community at large, connecting them with other students and the professional associations. It is represented at the Quebec Order of Engineers (OIQ) as well as the Confederation of engineering students in Quebec (QCESO) and Canada (CFES). It also has ties with the downtown Engineering Undergraduate Society (EUS), as well as the engineering-related student clubs at Mac like Mutrac and the Mac Robotics Club.
The goal of the association is to unite all engineering students through a greater fellowship and a memorable student experience. The Association also aims to make the engineering students participate in activities organized by the Macdonald Campus Students' Society (MCSS).
---
Contact:
Website: https://www.bessmcgill.com/
President's email address: president [at] bessmcgill.com
Vice-president External: external [at] bessmcgill.com
Other links: