The Desautels Graduate Student Society (DGSS) is a student-run association serving the interests of Masters Students of the Desautels Faculty of Management at McGill University.
Mission
Our mission is to independently represent the members in its interactions with the faculty and administration in response to policies, issues, and concerns of importance to the Society's members, including, but not limited to academic issues, administrative policies, and career planning opportunities.
Executive Team
We work to ensure that students get the most of their McGill experience and help the Masters students at the Desautels Faculty of Management achieve more as a group than we would each individually.
President - Joshua Pardo
Josh is a BSc. in Industrial Engineer and 2021 MBA candidate pursuing a dual concentration in Global Strategy & Leadership and Business Analytics. Originally from Peru, he worked at IBM and then joined McKinsey & Company. He likes to maintain a balanced lifestyle by combining academics, volunteer work, religion, music, working out, and staying social!
Contact Joshua
president.dgss [at] mail.mcgill.ca
---
VP Communications - Jackie Hudspeth
While working on her Honors BFA, Television & Broadcast Journalism at Chapman University in her hometown of Orange County, California, Jackie started her own film and television production company, Bijou Productions-- producing over 20 independent films and pilots. Looking to take her loves of journalism and travel to the next level, she applied to American Airlines as a flight attendant, ultimately living in five cities and travelling to over 30 countries in the span of three years. Jackie soon transitioned to American's corporate headquarters and facilitated with training and IT implementation during the American-US Airways merger. Once the project ended, she knew it was the right time for an MBA. Montreal has long been one of her favorite cities and with McGill she found her perfect fit. Looking to get back to her entrepreneurial roots, Jackie is pursuing a concentration in Finance with the hope of one day opening her own venture capital and impact investing firm.VP Communications - Jackie Hudspeth
In her spare time, you will see her exploring the diverse art and gastronomy of Montreal, breaking in a new set of pointe shoes, or watching the latest indie film with her 8-year old rabbit, James Bun.
Contact Jackie
vpcommunications.dgss [at] mail.mcgill.ca
---
VP Finance - Thomas Adam
Thomas is a 2021 MBA Candidate, specializing in Finance and Analytics with the goal of transitioning to the insurance / risk management sector upon graduation. Thomas received his undergraduate degree in Economics from the University of Alberta in his hometown of Edmonton, Alberta. Following graduation, time spent travelling, and some time working in sales, Thomas found himself at an insurer where he worked to help inform strategic initiatives. In this free time, Thomas loves to maintain an active lifestyle, take advantage of the live music scene here in Montreal, and explore the outdoors of Eastern Canada.
Contact Thomas
vpfinance.dgss [at] mail.mcgill.ca
---
VP Internal - Meghan McCoubrey
Meghan is a 2021 MBA candidate pursuing a concentration in Marketing. She graduated from Queen's University, in Ontario, with a Bachelor of Arts, majoring in Sociology with a minor in Economics. During her undergraduate studies, she worked in retail in the outdoor industry and, upon graduation, she spent a year working in hospitality in Revelstoke, British Columbia, before moving to Montreal to work in marketing at a law firm.VP Internal - Meghan McCoubrey
Contact Meghan
vpinternal.dgss [at] mail.mcgill.ca
---
VP External – Matthew Bartolone
After having worked as an aerospace engineer and a pro bono consultant in the Montreal-area for a number of years, Matthew has come to Desautels to complete his MBA with a concentration in Global Strategy & Leadership. Born and raised in Montreal, Matthew completed a Bachelor of Mechanical Engineering at McGill University and went on to become a Product Engineer at Pratt & Whitney Canada. Now at Desautels, he is hoping to leverage his MBA experience to take on more strategic client-facing roles. Outside of the classroom, you'll find Matthew staying active or indulging in the great Montreal cuisine!VP External – Matthew Bartolone
Contact Matthew
vpexternal.dgss [at] mail.mcgill.ca
---
VP Student Groups and Facilities - Forum Chheda
With 3 years of experience in the Technology sector and a degree in Bachelor of Engineering, specialising in IT, Forum is a 2021 MBA Candidate at McGill - Desautels Faculty of Management with a focus on Global Strategy and Leadership.VP Student Groups and Facilities - Forum Chheda
She strongly believes in 'Giving Back to the Community' and has served as a volunteer for a not for profit organization that fights for the rights of underprivileged children in India. She is passionate about Social Impact and is pursuing her MBA with the goal of helping businesses create positive social and environmental impact in the world. With an aim to do the same at Desautels, she co-founded the Desautels Health and Wellness Committee with her peers and currently serves as the director of the Committee.
She is an avid kickboxer and enjoys playing sports (mostly football), in her spare time. Apart from that she loves to binge watch TV shows and dance whenever-wherever she can.
Contact Forum
vpclubs.dgss [at] mail.mcgill.ca
---
VP Case Competitions (President, MCCA) – Ebuka Obiakor
Ebuka is a humanitarian, entrepreneur, business developer, and 2021 MBA candidate of the Desautels Faculty of Management. He is pursuing a dual concentration in Global Leadership & Strategy and Business Analytics aiming to self-improve on the facets of management needed to lead global organizations. He originally hails from Nigeria where he worked for 3 years both as an entrepreneur, building and managing start-ups and professionally as a digital operations specialist with a leading AdTech firm. As an aspiring global leader, he believes in striving to make the world a better place. His passions revolve around technology, innovation and sustainability. In his spare time, he loves to catch up on movies, video & board games and chill out.VP Case Competitions (President, MCCA) – Ebuka Obiakor
Contact Ebuka
ebuka.obiakor [at] mail.mcgill.ca
mdimc.mgmt [at] mcgill.ca
---
MBA1 Representative - Katia Bichar
Contact Katia
katia.bichar [at] mail.mcgill.ca
---
PMBA1 Representative - Guillaume Charette
Born in Ottawa, raised in Gatineau, Guillaume is pursuing his MBA part-time (Class of 2023). A practicing attorney in the province of Québec (Barreau 2013), he holds a Baccalauréat en droit (LL.B. 2012) from the Université de Montréal. As well, prior to studying law, he studied Economics and political science at this University.
As a lawyer, Guillaume practiced in business law and as a commercial litigator, before becoming a provincial Crown attorney at the DPCP in charge of Criminal prosecutions. From there, he transferred to the City of Montreal where he held the same position, before becoming legal counsel to the service de police de la ville de Montréal (SPVM). He currently represents the city and police force before Courts in a variety of matters, ranging from access to information law, to criminal trials or civil liability cases.
In his spare time, Guillaume likes to invest in stocks and options, play guitar or bass, learn languages (Spanish and Mandarin being his current challenges) and contribute to the legal profession through his involvement in the Conseil de discipline du Barreau du Québec where he tries to make sure the public is well protected. He is also a member of the young bar of Montréal. 
Contact Guillaume
guillaume.charette [at] mail.mcgill.ca
---
PMBA2 Representative - Anna Los
Contact Anna
anna.los [at] mail.mcgill.ca
---
PMBA3 Representative - Ramin Mohsenin
Ramin is pursuing his MBA part-time through Desautels Faculty of Management's Professional MBA program (Class of 2021). He holds a Bachelor degree in Civil Engineering (Co-op) as well as a PMP certification. He is currently pursuing a concentration in Finance and Strategy.
With 7+ years of professional experience in the Engineering and Project Management domains, Ramin is currently a Manager at Deloitte Canada, consulting within the national Infrastructure & Capital Projects team. Advising on some of the world's most complex I&CP projects, his team's work comprises of: Strategy and planning, Financing and procurement, Project organization and execution, and Infrastructure M&A throughout the entire asset lifecycle.
In his spare time, Ramin serves as an Assistant Coach for the Concordia University Men's soccer team. He grew up playing soccer at elite national levels including varsity, professional, and semi-professional stints. His other sporting passions include basketball, football, and rugby. He is also involved in philanthropic endeavors as an Ambassador to the Young McCord and as a Code Life Leader of the Montreal General Hospital.
Contact Ramin
ramin.mohsenin [at] mail.mcgill.ca
---
MMF Representative - Andrew Gillich
Andrew is a 2021 Master of Management in Finance candidate with a keen interest in commercial banking and finance. He recently earned his Bachelor of Commerce degree from McGill University in December 2019 where he majored in Finance and minored in Economics. Since graduating, he continued his summer internship at State Street in the Fund Accounting department until he decided to return to school in his hometown of Montreal to expand the depth of his knowledge in the field of finance. Andrew has also played hockey all his life and was an instructor at his favourite local hockey rink for eight years.
Contact Andrew
andrew.gillich [at] mail.mcgill.ca
---
MMF Representative - Amine Zemzami
Amine is a 2021 MMF candidate and an Equity Analyst within Desautels Capital Management. Prior to joining the MMF program, he graduated from the University of Ottawa in 2020 as a BCom. in Finance which he took in French. This gives him access to broader sources of information and enables him to express his ideas in both French and English. His passion for finance and his experience as Assistant Financial/Accounting Officer within the Conseil des Écoles Publiques de l'Est de l'Ontario are the reasons why he decided to continue his learning journey in finance. Back in Morocco, his country of origin, Amine developed an early passion for Surfing when he was 7 years old, played competitive Tennis and learned piano and guitar. He also enjoys the occasional Karting session. Finally, after moving to Canada, Amine became an avid Snowboarder.
Contact Amine
amine.zemzami [at] mail.mcgill.ca
---
MMA Representative - Foteh Gafarov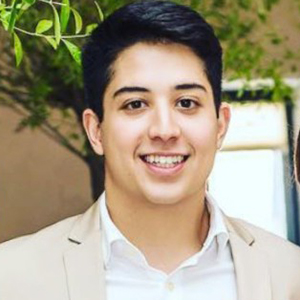 Foteh is a 2021 Master of Management in Analytics Candidate. He comes from a diverse education and cultural background. He graduated from McGill University with a BA in Economics and concentration in Entrepreneurship. Foteh has lived in three different countries and speaks several languages including Russian and Tajik. He hopes to combine his diverse background and the hard skills learned throughout the MMA program to pursue a career in sports, business or healthcare analytics. Further, his future ambition involves utilizing big-data and machine learning to pursue an entrepreneurial venture. Lastly, as an MMA Rep he hopes to create clear and positive communication channels between the program committee and the student body with hopes of taking advantage everything Desautels has to offer and more.
Contact Foteh
foteh.gafarov [at] mail.mcgill.ca
---
MMA Representative - Andrea Yzeiri
Contact Andrea
andrea.yzeiri [at] mail.mcgill.ca