Giving students the tools they need for asuccessful internship experienceand preparing them for a bright future.
Internships from Start to Finish Workshop Series
Internships from Start to Finish is a comprehensive workshop series designed by the Faculty of Arts Internship Office to guide students through every stage of the internship process. During this workshop series, students will learn how to find opportunities in their fields of interest, how to handle challenges and succeed in new environments, and how to transition their new skills and experience to future professional growth. More than just a preparatory course, these diverse workshops serve as professional development tools to help students develop the skill set to thrive in their internships and apply their new skills to their future careers. This series is developed by the Faculty of Arts Internship Office, Arts students' central resource for internship, research, and funding opportunities in Canada and around the world.
For an overview of all Internships from Start to Finish Workshops

Workshop List 2019-2020
To find out when these workshops are taking place please follow our event calendar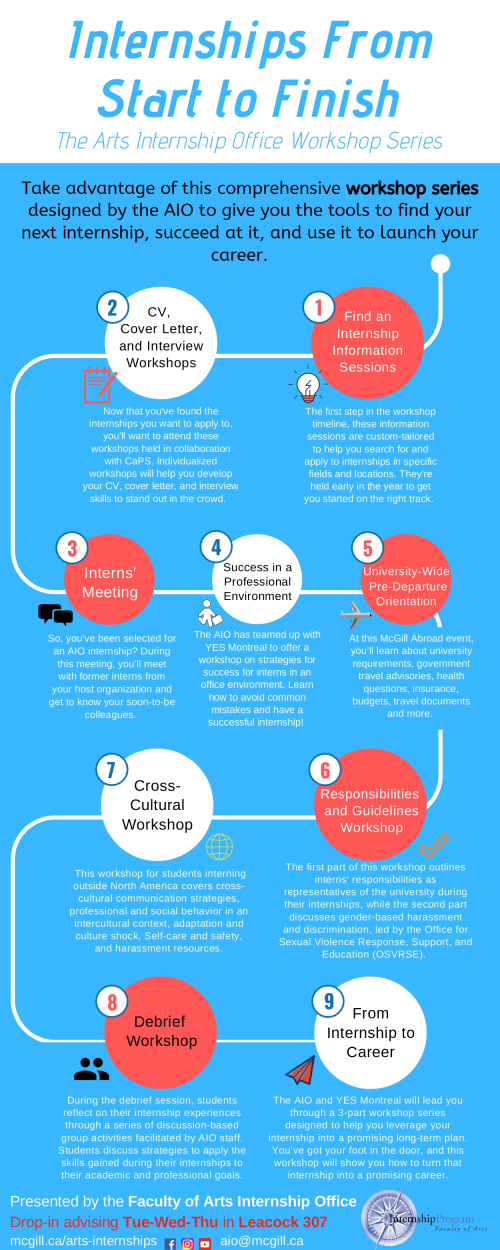 ARIA Library Workshop: Preparing for a Research Assistantship
ARIA award recipients attend this mandatory library research workshop. Nearly all ARIA projects have a library research component, and students and faculty who have participated in past years have consistently let us know that this workshop is an essential and valuable component of the program. ARIA students typically engage in library research with the literature in their particular field, at a deeper and more rigorous level than they have in the past.
In this workshop students learn skills that they will use immediately and throughout their academic and professional careers. By the end of the workshop ARIA students will have:
Translated their research topic into a powerful search strategy that will uncover relevant information.
Been introduced to the most essential subject-specific library resources relevant to their research topic, and to the variety of library services available to them.
Been introduced to the bibliographic management software EndNote, and will have populated a database with references related to their research topic.
Learned how to critically assess the relevance and appropriateness of the information they found.
Learned about the value of disseminating their research, and about library resources to help them publish.
Links to access ARIA Library Research Workshop series: 
Link to access Poster Workshop:
The Humanities and Social Sciences Library also provides personal library carrels (Desks) during the summer for all ARIA students. We group these carrels together as much as possible to help break some of the isolation of working alone on a research project, and past ARIA participants have told us that it also helps create a sense of community. If you would like to have your own carrel in the library for the duration of the summer, simply present yourself at the main library services desk in the lobby of the McLennan Library Building, and let them know you are an ARIA student and would like a carrel. The staff at the library services desk has a list of all eligible ARIA students.
aria_library_2019.pptx
Keys to Success
Want to unlock your research potential? This two-part workshop will give you the tools you need to master the research project. From identifying your research needs to producing a bibliography and everything in between, this workshop offers plenty of hands-on activities with friendly instructors who will help you take your skills to the next level.
If you are a student in the Humanities, Education, Management, or Social Sciences, make sure to sign up. Your future self will thank you.
For schedule and registration, click on the links below. Remember, this is a two-part workshop - make sure to sign up for both parts!
Get started with your research
Find articles, books, and other information sources
Choose the right sources
Learn citation tips and tricks
Certificate and co-curricular record
If you attend both parts of the workshop, you will receive a certificate signed by the Trenholme Dean of Libraries.
Keys to Success can also be added to your co-curricular record to help showcase your participation.
Internship to Career Workshops, Presented by YES Montreal
YES Montreal is a non-profit, community-driven English-language service provider that has been helping Quebecers province-wide find employment and start and grow businesses for over 20 years. At their core, they are focused on strengthening industries and communities by helping individuals in community develop a personal career or business strategy and giving them the skills and confidence to execute.
The three-part workshop, given by professional career counsellors and specialists, will advise students on how to best showcase their internships to jump start their career. In this session, students will learn strategies and tips to effectively land a job, by using your internship experience as a bridge.  
Part 1 - Using Your Internship as a Bridge to Getting Your First Full-time Job. 
1st Workshop PPT
Part 2 - Creating Your Personal Career Story.
2nd Workshop PPT
Part 3 - Marketing Your Internship to Find a Job.
3rd Workshop PPT
If you have any questions regarding the workshops, please write to YES Montreal via 
info

[at]

yesmontreal.ca
.
Virtual Internship Workshop Series
Are you looking for an internship and nervous about how to interview remotely? Are you interning remotely and looking for advice on how to better adjust yourself to remote work? Do you need guidance on how to maintain professional relationships while interning virtually? 
The Arts Internship Office is here to support you! 
We've partnered with YES (Youth Employment Services) to bring you a virtual internship workshop series that help you succeed in remote internships. During this workshop series, you will learn how to ace a video internship interview, and remain engaged and productive in your daily activities while interning remotely. You will also learn how to build rapport with your colleagues remotely, so you feel like you're part of the team and succeed in your internship this summer! 
All McGill students are welcome to attend! 

How to register? 
Register with your McGill email to the workshops by clicking on the following links. 
You should register at least one day before the workshop at 4 pm then you will receive link and password via your registered email to access the webinar.
Workshop Presentations:
If you have any questions regarding the workshops, please write to YES via 
info

[at]

yesmontreal.ca
.