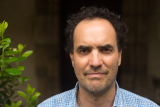 Associate Professor and Anthropology for the Ecozoic Lead
Ph.D. UW-Madison, 2002
My lifework is dedicated to developing the conceptual equipment –the ideas, methods, and theories– to prepare us to live in this age of unprecedented anthropogenic climate change. Centrally, this involves imagining better ways to live with the living world, in ways that can allow that world to orient our conduct. It involves, that is, a fundamental rethinking of anthropology and "the human" so that we can learn to "ecologize" our ethics.
The framework I have developed for understanding this living world and our connection to it builds on twenty-five years of sustained and ongoing anthropological research with Amazonian indigenous people living in one of the most biologically diverse ecosystems on Earth. As I argue in my critically acclaimed book How Forests Think, in order to truly comprehend what it means to live in this age we need to reimagine our relationship to a larger living world that really –but in sometimes counter-intuitive ways– also thinks. To do so, I have developed a robust conceptual toolkit and a set of alternative ethnographic methods based on semiotics –the study of signs– to understand this kind of thinking beyond the human and its relation to human thought.
How Forests Think won the 2014 Gregory Bateson Award for Best Book in Anthropology and is translated into nine languages. It has inspired the planetary ecological imaginary in a surprisingly diverse number of ways, ranging from an eponymous symphony premiering at Lincoln Center, to international museum exhibits, and best-selling works of fiction and non-fiction. The book been enthusiastically received and endorsed by the leading scholars in anthropology and the environmental humanities. Donna Haraway calls it, "a powerfully good read, one that changed my dreams and reworked my settled habits of interpretation." Bruno Latour calls it, "a work of art" and an "immensely refreshing…philosophical anthropology." Anna Tsing calls it, "radically innovative and original" and "beautifully written," a book she adds, that will "provoke important conversations in and beyond Anthropology," Marilyn Strathern calls it "thought-leaping in the most creative sense," and Philippe Descola says that, "a remarkable aspect of How Forests Think is the complex –and often beautifully written – intermingling of subtle theoretical propositions with an even subtler ethnography." Le Monde characterizes it as, "une veritable refondation de la discipline anthropologique…un chef-d'oeuvre…étonnant et déjà classique." The Times Literary Supplement says, "Kohn…walks a tightrope with perfect balance: never losing sight of the unique aspects of being human, while refusing to force those aspects into separating us from the rest of the abundantly thinking world."
My current project, Forest for the Trees, builds on this foundation to argue that a forest –that highly "absential" emergent product of a vast network of nonhuman semiosis– is a real thing and not merely a human abstraction. As such, a forest can provide a kind of ethical orientation for the sake of the various human and nonhuman life forms –the trees– it sustains. It can thus orient us, as we develop a mode of comportment and an orientation for these times of climate crisis. Just how to discern such guidance from the holistic properties a living world manifests is a complex philosophical problem (involving, as it turns out, the relation between aesthetics and ethics). It is also one that I explore ethnographically in the real world with a diverse and remarkably creative Ecuadorian network of indigenous activists, leaders, architects, lawyers, academics, scientists and artists with whom I collaborate.
Without losing scholarly rigor or the ability to make a continuing impact on anthropology, this project has led me to a number of interdisciplinary collaborations that involve, for example, theatre, experimental filmmaking and contemporary music, and it has taken me to the heart of timely debates related to, among other things, the revival of a psychedelic science; a rethinking of "religion" in times of climate crisis; the Rights of Nature, especially in my collaboration with lawyers; and the creation and curation of a permanent museum.
I teach a series of courses in anthropological theory and an anthropology "beyond the human" and collaborate on major team grants with the aim of making McGill a centre for the environmental humanities and a place from which to rethink our relationship to the living world in times of climate crisis.
My postdocs, graduate students and honours students, competitively recruited from a deep and highly diverse international pool, include practicing lawyers (experts in the Rights of Nature and aboriginal rights), renowned museum curators, researchers with years of experience in guerilla occupied areas of the northwest Amazon, and published creative fiction authors. Their research topics range from the aesthetics of post-Hiroshima Japanese garden design; the metaphysical systems of New Age channels; postcolonial Capoeira semiotics; Cetacean ethnographies; forests haunted by the ghosts of war; and Wampis and Mohawk activist alliances and alter-politics.
As of 2021 I am the Anthropology for the Ecozoic Lead. I encourage prospective PhD students interested in working with me to explore the funded Leadership for the Ecozoic PhD initiative and to apply to do the anthropology PhD under my supervision through the Leadership for the Ecozoic initiative