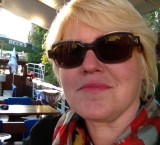 Associate Professor,
William Dawson Scholar of Feminist Media Studies,
Director of the Institute for Gender, Sexuality and Feminist Studies (http://www.mcgill.ca/igsf/about/staff)

B.A. (Minn.), M.A., Ph.D. (Ill.-Urbana-Champaign)
To be directed to Prof. Rentschler's personal webpage, click here.
Professor Rentschler's research examines the relationship between mass-mediated representations of suffering and models of citizenship, the gender politics of environmental security and its publicity, the diverse media activism practices of social movements, women's self-defense as a form of feminist pedagogy, and the gendered politics of fear. Her first book, Second Wounds: Victims Rights and the Media in the U.S. (Duke University Press, 2011), retells the recent history of crime and disaster media from the perspective of victims' rights reforms and publicity practices.  She is currently writing a book on the 1964 Kitty Genovese murder (where 38 New Yorkers supposedly looked on and did nothing) and its cultural legacies of failed witnessing. 
She teaches courses in feminist media studies (undergrad and graduate), media and the politics of emotion and affect (undergrad and graduate), cultural studies of news (graduate), crime/media/culture (graduate), and feminist theories and methods (graduate).  Her current graduate supervisees conduct research on the activist histories of digital storytelling in North America; activist interventions around the criminalization and incarceration of girls of colour; gendered media constructions and responses to bullying; necropolitics and activist imaginaries of life, death, and the public cultures of grief; cultural histories and technologies of stand-up comedy; and affect theory and the politics of emotion.  Students who have completed their MA and Ph.D. with Prof. Rentschler have conducted research on the place-based activist techne of Greenham Common women before the world wide web; the feminist figure of the amateur female sleuth in current television programming and popular book series; the cultural memory of Canadian feminism; the nostalgic film of 1960s Quebec and its gendered generational ideologies; the discourse of failure and practices of remembering the history of Winnipeg's community television; the political path-making of queer Arab women of colour anti-war activists in Montreal, the geographic imaginary of security on the U.S./Canada border, and the discourse and representation of pin-up labor on websites such as SuicideGirls. 
Select Publications:
Book:
Girlhood and the Politics of Place: Contemporary Paradigms of Research. Under contract at Berghahn Press, with co-editor Claudia Mitchell (forthcoming 2014).

Second Wounds: Victims' Rights and the Media in the U.S. (Durham, NC: Duke University Press), 2011.
Special Journal Issue:
"Doing Feminism: Event, Archive, Techné." Co-editor, with Samantha Thrift, of a special issue of Feminist Theory, 17:1 (forthcoming April 2016).
"Cultural Studies and the Re-Description of Girlhood in Crisis." Co-editor, with Claudia Mitchell, of a special issue of Girlhood Studies 7:1 (February 2014).
Articles:
"Rape Culture and the Feminist Politics of Social Media" in press, Girlhood Studies 7:1 (2014), 65-82.
"Distributed Activism: Domestic Violence and Feminist Media Infrastructure in the Fax Age" accepted for publication in Communication, Culture & Critique 8:2 (2014).
"On S'En Câlisse, La Loi Speciale: The Music Festival that Wasn't" Wi: Journal of Mobile Media, (2012). Invited contribution, 1500 words. http://wi.mobilities.ca/on-sen-calisse-la-loi-special-the-music-festival-that-wasnt
"An Urban Physiognomy of the 1964 Kitty Genovese Murder," Space & Culture 14:3 (2011), 310-329.
"The Physiognomic Turn," International Journal of Communication 4 (2010): 1-6.
"Trauma Training and the Reparative Work of Journalism." Cultural Studies 24:4 (2010): 447-477. 
"Sarah Palin, Sexual Anomalies and Historical Analogues." Liminalities: A Journal of Performance Studies 4:3 (November 2008).
"Risky Assignments: Sexing "Security" in Hostile Environment Reporting." Feminist Media Studies 7:3 (2007), 257-279.
"Victims' Rights and the Struggle over Crime in the Media." Canadian Journal of Communication, 32:2 (2007), 239-259.
"Review Essay: Militarized Media at War and at Home." The Communication Review 9:1(2006), 143-154,
"Introduction: States of Insecurity and the Gendered Politics of Fear" (co-authored with Carol A. Stabile). National Women's Studies Association Journal 17:3 (2005), vii-xxv.
"Witnessing: U.S. Citizenship and the Vicarious Experience of Suffering." Media, Culture and Society 26:2 (2004), 296-304.
"Designing Fear: Environmental Security and Violence against Women" Cultural Studies: A Research Annual 5 (2000), 281-307.
"Women's Self-Defense: Physical Education for Everyday Life." Women's Studies Quarterly 26:1 (1999), 152-161.
Selected Chapters in Edited Books:
"The Significance of Place in Girlhood Studies" (co-authored with Claudia Mitchell). Girlhood and the Politics of Place: Paradigms of Contemporary Research. Berghahn Press (forthcoming 2014). 
"Technologies of Bystanding: Learning to See Like a Bystander" accepted for publication in Shaping Inquiry in Culture, Communication and Media Studies, ed. Barbie Zelizer. Routledge (forthcoming 2014).
"From Danger to Trauma: Affective Labor and the Journalistic Discourse of Witness." In Media Witnessing: Testimony in the Age of Mass Communication, ed. Paul Frosh and Amit Pinchevski.  Palgrave Macmillan (2009), pp. 152-175.
"Securing Profits." In Collective Action: A Bad Subjects Anthology, ed. Joel Schalit and Megan Shaw Prelinger. London: Pluto Press (2004), pp. 198-205.
"Designing Fear: How Environmental Security Protects Property at the Expense of People." In Foucault, Cultural Studies and Governmentality, eds. Jack Bratich, Jeremy Packer and Cameron McCarthy. Albany: SUNY Press (2003), pp. 243-272.
"Expanding the Definition of Media Activism." In Blackwell Companion to Media Studies, ed. Angharad Valdivia. Malden, MA: Blackwell Publishers (2003), pp. 529-547.