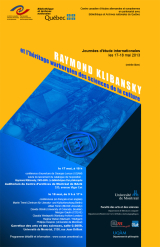 May 17-18, 2013
Co-sponsored by Media@McGill.
Raymond Klibansky and the Warburgian Legacy of the Cultural Sciences
International workshop
To read the program click here.
To see the invitation for the inaugural conference happening Friday May 17 at 6 p.m. entitled: Raymond Klibansky (1905-2005) - La bibliothèque d'un philosophe - click here.