The goal of the Programs in Whole Person Care (WPC) is to create a focus for healing and whole person care at McGill. Part of our mandate is to contribute to education related to healing within the University, the wider academic community, and the general public. To that end we have designed a film series which will provide a forum for the general public to meet with medical students and other members of the McGill medical community to view and discuss films that will encourage viewers to explore the meaning of healing and "wellness" in daily life.
Electronic media are a powerful way to tap the subconscious. Perhaps it is this power that makes us fear media such as television and film for their destructive potential. Their capacity to promote positive transformation and healing is the other side of the same coin. With the WPC film series, we plan to harness the power of film by following the film with a dialogue between series discussants and members of the general public. The goal of the project is to provide an understanding of healing in a modern biomedical context, and to promote recognition of healing as an integral component of medical science and practice.
Films 2015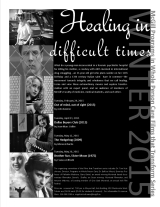 February 24, 2015
Out of mind, out of sight (2013) - 88 min.
April 21, 2015
Dallas Buyers Club (2013) - 117 min.
May 12, 2015
The Hedgehog (2009) - 100 min.
May 26, 2015
Brother Sun, Sister Moon (1972) - 121 min.
Films are screened at 7:00 p.m. in Moyse Hall, Arts Building, 853 Sherbrooke West.
Access:
24 bus, Metro McGill. Follow the road straight up from the Roddick Gates, at Sherbrooke and McGill College.

Please note that as of May 28, 2010, parking availability on McGill's Downtown Lower Campus was substantially reduced during the week. Main Campus outdoor parking area is only available for the parking of vehicles which have been sponsored by a McGill department (parking north of James Administration Building only) or visitors to the campus who have a provincial handicapped permit.
For more information about other parking facilities as well as parking rates, please click here.


Wheelchair Access to Moyse Hall: The Arts Building is wheelchair accessible through the adjacent Leacock building. Wheelchair access to the Leacock is through the door to right of the main entrance. The corridor to the right leads to the Arts Building. There is a ramp by the first staircase between the two buildings, and an elevator at the second staircase. Moyse Hall is equipped with small elevator which gives access to the theatre.
Tickets are $10 each ($5 for students & seniors).
For information & reservations: tel.: 514-398-2298; email: wpc [dot] oncology [at] mcgill [dot] ca (Programs in Whole Person Care)
Since its inception in 2005, McGill Programs in Whole Person Care has screened 45 films. See below for a list of all films screened since the beginning of the series.
Year

Films

2005

Mr. Mergler's Gift (2005) & Appointment With The Wise Old Dog: Dream Images in a Time of Crisis (1998)

Ryan (2004) & In the Gutter and Other Good Places (1993)

What the Bleep Do We Know!? (2004)

Genghis Blues (1999)

2006

The Man Who Learned to Fall (2004)

The Boys of Buchenwald (2002)

Zero Degrees of Separation (2005)

Rivers and Tides: Andy Goldsworthy Working with Time (2001)

Ram Dass: Fierce Grace (2001)

How's Your News? (1999)

Flight from Death: The Quest for Immortality (2003)

Bonjour! Shalom! (1991)

To a Safer Place (1987)

Gap Toothed Women (1987)

2007

Doing Time, Doing Vipassana (1997)

Joseph Guinta: A Silent Triumph (2002)

This Beggar's Description (2006)

Born Into Brothels: Calcutta's Red Light Kids (2004)

Murderball (2005)

39 Pounds of Love (2005)

2008

La Neuvaine (2005)

Braindamadj'd (2005)

At My Mother's Breast (2006)

The Last Days of Living (1980)

Triage: Dr. James Orbinski's Humanitarian Dilemma (2008)

2009

The English Surgeon (2009)

The Diving Bell and the Butterfly (2007)

One Week (2008)

The Necessities of Life (2010)

2010

The Doctor (1991)

Baraka (1992)

The Dead (1987)

Departures (2008)

Young at Heart (2007)

2011

The Legacy (2009)

Waste Land (2010)

Into Great Silence (2005)

2012

Breakaway: A Tale of Two Survivors (2000)

Giota's Journey (2011)

Southern Comfort (2001)

2013

Flight from Death: The Quest for Immortality (2003)

2014

Amour (2012)

Sarah's Key (2010)

The Intouchables (2011)