The goal of the Programs in Whole Person Care (WPC) is to create a focus for healing and whole person care at McGill. Part of our mandate is to contribute to education related to healing within the University, the wider academic community, and the general public. To that end we have designed a film series which will provide a forum for the general public to meet with medical students and other members of the McGill medical community to view and discuss films that will encourage viewers to explore the meaning of healing and "wellness" in daily life.
Electronic media are a powerful way to tap the subconscious. Their capacity to promote positive transformation and healing is the raison d'être of the series. We plan to harness the power of film by following each film with a dialogue between series discussants and members of the general public. The goal of the project is to provide an understanding of healing in a modern biomedical context, and to promote recognition of healing as an integral component of medical practice and of societal change and transformation.
Films 2017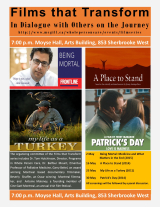 May 2, 2017
Being Mortal: Medicine and What Matters in the End (2015) - 54 min.
FRONTLINE follows renowned New Yorker writer and Boston surgeon Atul Gawande as he explores the relationships doctors have with patients who are nearing the end of life. In conjunction with Gawande's new book, Being Mortal, the film investigates the practice of caring for the dying, and shows how doctors — himself included — are often remarkably untrained, ill-suited and uncomfortable talking about chronic illness and death with their patients.
Trailer: http://www.pbs.org/wgbh/frontline/film/being-mortal/ 
May 16, 2017
A Place to Stand (2014) - 1h26min.
A Place to Stand is the amazing true story of how Jimmy Santiago Baca —a man with seemingly no future— became a celebrated teacher, poet, novelist, and screenwriter.
Based on the memoir of the same name, A Place to Stand takes viewers into Jimmy's past and present to uncover how the power of the written word lifted him from the violence and pain that had defined his early life. With powerful revelations from family, friends, and fellow inmates, as well as incredible insight into the early writings that first captured Jimmy's imagination, audiences learn why it's never too late to turn your life around – as long as you have a place to stand.
Trailer: http://aplacetostandmovie.com/
May 23, 2017
My Life as a Turkey (2011) - 59 min.
Biologist Joe Hutto was mother to the strangest family in the world, thirteen endangered wild turkeys that he raised from egg to the day they left home.
For a whole year his turkey children were his only companions as he walked them deep through the Florida Everglades. Suffering all the heartache and joy of any other parent as he tried to bring up his new family, he even learnt to speak their language and began to see the world through turkey eyes. Told as a drama documentary with an actor recreating the remarkable scenes of Joe's life as a turkey mum.
Trailer: https://www.youtube.com/watch?v=yid8CuBvtyk
May 30, 2017
Patrick's Day (2014) - 1h42min.
When a young man with mental health issues becomes intimate with a suicidal flight attendant, his obsessive mother enlists a dysfunctional cop to separate them.
Trailer: https://www.youtube.com/watch?v=Rujw0cgQ7OE
Films are screened at 7:00 p.m. in Moyse Hall, Arts Building, 853 Sherbrooke West. NO RESERVATION REQUIRED.
Access:
BUS: 24, 80, 107, 144. Follow the road straight up from the Roddick Gates, at Sherbrooke and McGill College.
METRO: Exit at McGill College and walk North towards McGill University.
Please note that as of May 28, 2010, parking availability on McGill's Downtown Lower Campus was substantially reduced during the week. Main Campus outdoor parking area is only available for the parking of vehicles which have been sponsored by a McGill department (parking north of James Administration Building only) or visitors to the campus who have a provincial handicapped permit.
For more information about other parking facilities as well as parking rates, please click here.
Wheelchair Access to Moyse Hall: The Arts Building is wheelchair accessible through the adjacent Leacock building. Wheelchair access to the Leacock is through the door to right of the main entrance. The corridor to the right leads to the Arts Building. There is a ramp by the first staircase between the two buildings, and an elevator at the second staircase. Moyse Hall is equipped with small elevator which gives access to the theatre.
For information email: wpc.oncology [at] mcgill.ca (Programs in Whole Person Care).
Since its inception in 2005, McGill Programs in Whole Person Care has screened 51 films. See below for a list of all films screened since the beginning of the series.
Year

Films

2005

Mr. Mergler's Gift (2005) & Appointment With The Wise Old Dog: Dream Images in a Time of Crisis (1998)

Ryan (2004) & In the Gutter and Other Good Places (1993)

What the Bleep Do We Know!? (2004)

Genghis Blues (1999)

2006

The Man Who Learned to Fall (2004)

The Boys of Buchenwald (2002)

Zero Degrees of Separation (2005)

Rivers and Tides: Andy Goldsworthy Working with Time (2001)

Ram Dass: Fierce Grace (2001)

How's Your News? (1999)

Flight from Death: The Quest for Immortality (2003)

Bonjour! Shalom! (1991)

To a Safer Place (1987)

Gap Toothed Women (1987)

2007

Doing Time, Doing Vipassana (1997)

Joseph Guinta: A Silent Triumph (2002)

This Beggar's Description (2006)

Born Into Brothels: Calcutta's Red Light Kids (2004)

Murderball (2005)

39 Pounds of Love (2005)

2008

La Neuvaine (2005)

Braindamadj'd (2005)

At My Mother's Breast (2006)

The Last Days of Living (1980)

Triage: Dr. James Orbinski's Humanitarian Dilemma (2008)

2009

The English Surgeon (2009)

The Diving Bell and the Butterfly (2007)

One Week (2008)

The Necessities of Life (2010)

2010

The Doctor (1991)

Baraka (1992)

The Dead (1987)

Departures (2008)

Young at Heart (2007)

2011

The Legacy (2009)

Waste Land (2010)

Into Great Silence (2005)

2012

Breakaway: A Tale of Two Survivors (2000)

Giota's Journey (2011)

Southern Comfort (2001)

2013

Flight from Death: The Quest for Immortality (2003)

2014

Amour (2012)

Sarah's Key (2010)

The Intouchables (2011)

2015

Out of mind, out of sight (2013)

Dallas Buyer's Club (2013)

The Hedgehog (2009)

Brother Sun, Sister Moon (1972)

2016

Temple Grandin (2010)

Alive Inside (2014)

In Pursuit of Peace / À la poursuite de la paix (2015)

Trick or Treaty? (2014)