On October 22nd 2007, the School marked the centenary of the late Professor Harold Spence-Sales who established the first planning program in Canada at McGill in 1947. Professor Spence-Sales would have been 100 on this date.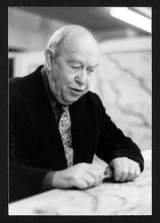 ---
Harold Spence-Sales - a most original man - an artist, architect, poet, Churchillian in his command of the English Language. He loved the poetry of Milton, - and having been born at Lahore, India in 1907, was greatly influenced by the richness of that life under the Raj. Rabindranath Tagore, the great poet, artist and teacher was ever present in his spirit.
Harold's love of flora and landscape was expressed in the exquisite designs of his gardens, and his planting schemes for McGill's campus, where he was Garden-master until 1970. The great lindens on the campus leading up to the Arts Building were chosen by Harold to replace the ancient elms dying of Dutch Elm disease.
Harold's unique approach to planning was a profound appreciation of the landscape. Its characteristics dictated the solution for each scheme. His diagrams were notably dynamic, - flowing, colourful lines and patterns, - and his models equally vivid and precise, - his verbal presentations always eloquent and seductive. He loved teaching and established a very understanding and often humourous rapport with his students.
"Provocative and endearing - an unforgettable personality".
Mary H. Spence-Sales Vancouver October 4, 2007.