2016
---
B.D. Wortham-Galvin 
The (in)formal city
Thursday 10 March 2016
The McGill University School of Urban Planning is pleased to welcome Prof. B.D. Wortham-Galvin to present "(in)formal city" at the annual Gewurz Lecture in Urban Design. Wortham-Galvin is an Assistant Professor in the School of Architecture and a Faculty Fellow for the Center for Public Interest Design, the Institute for Sustainable Solutions, and BUILT at Portland State University. 

2015
---
Adam Greenfield
Another city is possible: Practices of the minimum viable utopia
Friday 13 March 2015
In partnership with McGill's Institute for the Public Life of Arts and Ideas, the School of Urban Planning welcomed Adam Greenfield, a Senior Urban Fellow at LSE Cities, an international research centre at the London School of Economics, and the founding director of Urbanscale, a design consulting firm focused on relationships between information technology and the urban experience.
To view a recording of this lecture, please click here.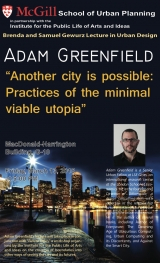 2014
---
Herman Hertzberger
The school as a city, the city as a school
Thursday 13 March 2014
Hertzberger's lecture showcased the work of a world-renowned designer of learning environments, providing information on the ongoing efforts of McGill University and its partners to create such environments in the Quartier de l'innovation. In addition to heading Architectuurstudio HH since 1960, Mr Hertzberger has also been a leading writer and educator for nearly 50 years.
To view a recording of this lecture, please click here.
2013
---
Andrew Altman
Tackling large‐scale urban transformation: The journey of a city planner from Washington to the London Olympics
14 March 2013

The School was pleased to welcome the head of urban planning for the 2012 London Olympics; prior to that, Altman served as Deputy Mayor for Economic Development and Planning in Philadelphia and as Planning Director for Washington DC.

2012
---
Jürgen Happ
Designing sustainable cities: a case study of the Masdar City master plan
Thursday 8 March 2012
The School of Urban Planning partnered with the Urban Development Institute of Québec to welcome Jürgen Happ, of Foster + Partners (London), who presented a detailed overview of Masdar City--a real-life experiment in zero-carbon, zero-waste urban development.
To view a recording of this lecture, please click here.
2011
---
Gordon Harris
The UniverCity project
1 March 2011
See a McGill Reporter interview with the speaker here.

Douglas Olson
Landscape architecture and urbanism: A question of scale
10 March 2011
2010
---
Adèle Naudé Santos
Urban design speculation in the academic context
Thursday 11 March 2010
Open or download a high-resolution version of this poster: Spring 2010 Gewurz Lecture poster
2009
---
Ray Gindroz
Consensus, urbanism, and architecture
Thursday 12 March 2009
2008
---
Andrea Gabor
Designing for sustainable communities
Monday 31 March 2008
Open or download a high-resolution version of this poster: Poster--Spring2008GewurzLecture
2007
---
Larry Beasley
Making a great city by design
Monday 29 October 2007
The McGill School of Urban Planning was pleased to welcome Professor Larry Beasley from University of British Columbia, former co-director of planning for the City of Vancouver, to deliver the inaugural Brenda and Samuel Gewurz Lecture in Urban Design. Professor Beasley is largely credited with the transformation of Vancouver's downtown core along New Urbanism lines, known as 'Vancouverism' or the 'Vancouver Model'.