---
Chemin Upper-Lachine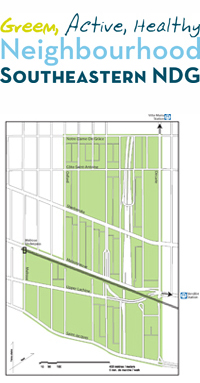 Une équipe de recherche à l'Université McGill est en train d'étudier le chemin Upper-Lachine. L'étude cherche à connaître les attitudes des usagers par rapport aux propositions d'aménagement ayant comme but de redéfinir, progressivement, les espaces publics--dont les rues--dans la partie sud-est de Notre-Dame-de-Grâce afin qu'ils deviennent plus conviviaux, sécuritaires et attrayants pour tous ceux qui souhaitent y circuler à pied et à vélo. Si vous avez 18 ans et plus, nous cherchons votre participation !
A research team at McGill University is now conducting a study of chemin Upper-Lachine. The study aims to explore user responses to possibilities for reconfiguring public space--notably streets--in the southeast part of Notre-Dame-de-Grâce to create a more 'user-friendly' setting for pedestrians and cyclists. If you are 18 years of age or older, you are cordially invited to take part.
---
Rethinking Saint-Viateur
Since 2009, McGill has been engaging in a collaborative venture with community groups in the Mile End district of Montréal. As a pilot project in community-based design, we are working on a multi-phase study of Saint-Viateur Street, focusing on the stretch between Avenue du Parc and Rue Saint-Urbain. The study aims to explore how local knowledge can be harnessed to make Saint-Viateur a more 'user-friendly' street. For more information, click here!
---
Whole-corridor urban design strategies for optimising public transit infrastructure
This project explores a fundamental city-building question: How can we make more of the unrealised potential in existing urban infrastructure, and how can we engage local communities in urban regeneration projects to make the most of new public-transit infrastructure?
For more information, click here.


---
Making Edible Landscapes
A collaborative venture with the McGill Minimum Cost Housing Group, In what ways can ecological design concepts inform city-building? This project explores the potential for including urban agriculture as a permanent feature in city planning and urban design. It builds on a three-year undertaking supported by the International Development Research Centre (IDRC), focusing on four international cities: Colombo (Sri Lanka), Kampala (Uganda), Rosario (Argentina), and Montréal. For more information please see the Minimum Cost Housing Group website.