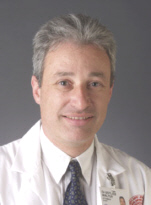 Associate professor, Departments of Obstetrics & Gynecology and Oncology, McGill University

Address
Gynecologic Oncology
Sir Mortimer B. Davis-Jewish General Hospital
3755 Chemin de la Cote-Ste-Catherine
Montreal, Quebec H3T 1E2

Tel.: 514-340-8222 ext. 3114
Fax: 514-340-8619
walter [dot] gotlieb [at] mcgill [dot] ca (Email)

Expertise: Insulin-Like Growth Factor Receptor I Targeting In Epithelial Ovarian Cancer

Summary of Research Activities
In March 2003 a new Division of Gynecologic Oncology was started at the SMBD-Jewish General Hospital and Lady Davis Institute. The efforts in the Division of Gynecologic Oncology have been directed to the full range of comprehensive gynecologic oncology care and the establishment of basic research with translational potential. The activity related to research included the establishment of a tumor bank consisting of tissue specimens, blood samples and fluids from patients who underwent surgery for gynecologic cancers. In collaboration with Dr. Michael Pollak, we have investigated the use of an IGF-I receptor kinase inhibitor as a potential new drug candidate for ovarian cancer. Our experiments showed that this inhibitor exhibits a dose and time dependent toxicity towards ovarian cancer cell lines in vitro. We are presently investigating the molecular pathways involved, and are planning to test it on animal models of ovarian cancer in the next year. The long term aim is to develop sufficient preclinical data to plan phase I clinical trials in collaboration with the clinical research unit of the MCETC.

Recent Publications
Schaffer A, Koushik A, Trottier H, Duarte-Franco E, Mansour N, Arseneau J, Provencher D, Gilbert L, Gotlieb W, Ferenczy A, Coutlee F, Pollak MN, Franco EL; Biomarkers of Cervical Cancer Risk Study Team. Insulin-like growth factor-I and risk of high-grade cervical intraepithelial neoplasia. Cancer Epidemiol Biomarkers Prev. 2007 Apr;16(4):716-22.

Gotlieb WH, Bruchim I, Gu J, Shi Y, Camirand A, Blouin MJ, Zhao Y, Pollak MN. Insulin-like growth factor receptor I targeting in epithelial ovarian cancer. Gynecol Oncol. 2006 Feb;100(2):389-96. Epub 2005 Nov 21.