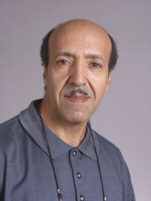 Professor, Departments of Medicine and Oncology, McGill University
FRSQ Research Scholar

Address
Lady Davis Institute for Medical Research
Sir Mortimer B. Davis-Jewish General Hospital
3755 Côte Ste-Catherine Road
Montreal, Quebec H3T 1E2

Tel.: 514-340-8222 ext. 3438/3432
Fax: 514-340-8717
moulay [dot] alaoui-jamali [at] mcgill [dot] ca (Email)
Dr. Alaoui-Jamali's Website

Expertise: Cancer & Target Discovery; Screening for Novel Therapeutics

Summary of Research Activities
Changes in the local tumor microenvironment play an essential role in the development and progression of cancer. Using cellular and genetic approaches, this laboratory has demonstrated that specific members of the ErbB and non-ErbB tyrosine kinase receptor family play a key role in the regulation of tissue microenvironment and tissue homeostasis via multiple autocrine and paracrine signaling loops. These loops promote the disorganization and disassembly of the extracellular matrix, activation of local host stroma, and neovascularization. We are currently pursuing genomic and functional proteomic studies in order to understand these mechanisms, and determine their implications for cancer. A second aspect of our research is to characterize the function of a novel cancer associated gene we named p22RBT1. p22RBT1 is a nuclear protein that plays a role in the regulation of cell cycle and acts as a potent transcriptional co-activator. Furthermore, overexpression of this protein in normal cells leads to cellular transformation and tumor formation. We are pursuing genetic studies in cell lines and knockout mice to examine the function of this protein and its partners in transcription, cell cycle and carcinogenesis. A third aspect of our research is to understand the mechanisms by which viral oncoproteins, such as those of hepatitis B/C viruses, and their associated inflammatory processes, enhance cell susceptibility to carcinogenesis. We demonstrated that HBV/HCV enhance cell susceptibility to site-specific mutagenesis by interfering with DNA repair and its associated cell cycle checkpoints. The molecular mechanisms involved are under investigation. Finally, this laboratory has established a recognized expertise in in vivo models to study the anticancer, antimetastatic and antiangiogenic activities of novel agents. These models are now being used for drug/target discovery.

Recent Publications
Mlynarek AM, Balys RL, Su J, Hier MP, Black MJ, Alaoui-Jamali MA. A cell proteomic approach for the detection of secretable biomarkers of invasiveness in oral squamous cell carcinoma. Arch Otolaryngol Head Neck Surg. 2007 Sep;133(9):910-8.

Hamilton D, Loignon M, Alaoui-Jamali MA., Batist G. Novel use of the fluorescent dye 5-(and-6)-chloromethyl SNARF-1 acetate for the measurement of intracellular glutathione in leukemic cells and primary lymphocytes. Cytometry A. 2007 Sep;71(9):709-15.

Li B, Lyle MP, Chen G, Li J, Hu K, Tang L, Alaoui-Jamali MA., Webster J. Substituted 6-amino-4H-[1,2]dithiolo[4,3-b]pyrrol-5-ones: Synthesis, structure- activity relationships, and cytotoxic activity on selected human cancer cell lines. Bioorg Med Chem. 2007 Apr 19; [Epub ahead of print]

Darwish H, Cho JM, Loignon M, Alaoui-Jamali MA., Overexpression of SERTAD3, a putative oncogene located within the 19q13 amplicon, induces E2F activity and promotes tumor growth. Oncogene. 2007 Jan 29; [Epub ahead of print]

Alaoui-Jamali MA.. Protein tyrosine kinase signaling diversity and susceptibility to targeted kinase inhibitors. Biomed Pharmacother. 2006 Nov;60(9):629-32. Epub 2006 Aug 28. Review.

Kalra J, Shao Q, Qin H, Thomas T, Alaoui-Jamali MA., Laird DW. Cx26 inhibits breast MDA-MB-435 cell tumorigenic properties by a gap junctional intercellular communication-independent mechanism. Carcinogenesis. 2006 Dec; 27(12): 2528-37. Epub 2006 Jun 15.

Balys R, Alaoui-Jamali MA., Hier M, Black M, Domanowski G, Rochon L, Jie S. Clinically relevant oral cancer model for serum proteomic eavesdropping on the tumour microenvironment. J Otolaryngol. 2006 Jun;35(3):157-66.

Hernandez M, Shao Q, Yang XJ, Luh SP, Kandouz M, Batist G, Laird DW, Alaoui-Jamali MA.. A histone deacetylation-dependent mechanism for transcriptional repression of the gap junction gene cx43 in prostate cancer cells. Prostate. 2006 Aug 1;66(11):1151-61.