Description
Would you like to design or redesign one of your courses and enhance your teaching skills? Join a group of fellow faculty members led by facilitators from Teaching and Learning Services to discuss strategies for course design and teaching that focus on enhancing student learning. Bring an existing course or your ideas for designing a new one. You will leave this session with new insights about teaching and a draft syllabus of your course.
Please note that the Introduction to Course Design and Teaching is designed for McGill faculty members. For a complete description of programs designed for graduate students please check Graduate Education Initiatives.
Goals
During this workshop participants will:
Become familiar with learning-centered course design principles and strategies;
Apply these principles to the (re)design of one of their courses;
Exchange feedback with peers to improve course design and teaching approaches.
Strategies
The workshop has three components:
Pre-workshop preparation Upon registration, participants will be asked to complete a short questionnaire and read an article.
One-day workshop
The workshop includes interactive activities, mini lectures, and exercises where participants apply course design principles to a specific course in their discipline. Please see Agenda Tab.
Half-day workshop
Participants present their revised course outlines and exchange feedback. Please see Agenda Tab.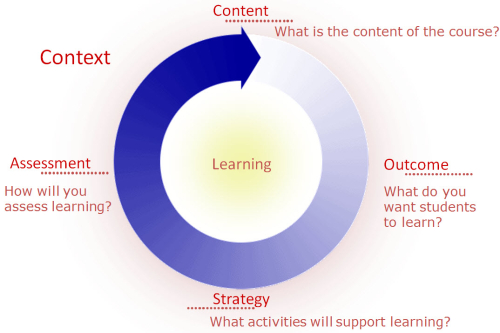 Agenda (tentative)
Day One
TIME
TOPIC
8:30 - 9:00am
9:00 - 12:00pm

Introduction and design model
Organizing content
Learning outcomes

12:00 - 1:00pm
1:00 - 5:00pm

Assessment
Course design case
Strategies
Putting it all together: the course syllabus
Questions, follow-up and evaluation
Day Two
| | |
| --- | --- |
| TIME | TOPIC |
| 9:30 - 11:30am | |
| 11:30 - 12:00pm | |
| 12:00 - 1:00pm | Closing lunch (provided by TLS) |
Date & Location
Dates:
May 7, 2015 | 9:00am to 5:00pm &
May 12, | 9:00am to 1:00pm
Location: Education Building, Room: 627 (Active Learning Classroom), 3700 rue McTavish Montreal Quebec Canada , H3A 1Y2
Registration is now closed. The workshop will be held again in December 2015 and May 2016.
Contact
For further information about the workshop please contact Dr. Mariela Tovar (Educational Developer) by mariela [dot] tovar [at] mcgill [dot] ca (subject: ICDT) (email) or phone (514) 398-5996.