Members of the McGill International TB Centre have developed some tools and websites that are readily available: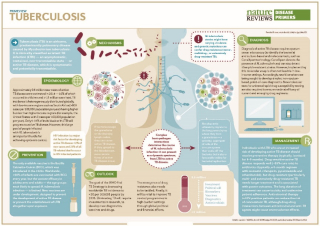 Nature Reviews Disease Primer
Tuberculosis
An international group of top TB experts from several leading institutions, coordinated by the McGill International TB Centre,  published a primer on tuberculosis (TB) in the journal Nature Reviews Disease Primers.  Download here
---

Let's Talk TB
Let's Talk TB is a book on the current best practices in TB diagnosis and treatment available for free for all GPs and private practitioners in India and other high-burden countries.
Click here for free download: www.letstalktb.org/
---
The Online TST/

IGRA Interpreter
This tool estimates the risk of active tuberculosis for an individual with a tuberculin skin test reaction of ≥5mm, based on his/her clinical profile. It is intended for adults tested with standard tuberculin (5 TU PPDS, or 2 TU RT-23) and/or a commercial Interferon Gamma release assay (IGRA) -  www.tstin3d.com
---
The BCG World Atlas Second Edition - Updated in 2017
A Database of Global BCG Vaccination Policies and Practices - http://bcgatlas.org/
The first of its kind, the BCG World Atlas is a database of policies and practices of the Bacillus Calmette-Guérin (BCG) vaccine, the only licensed vaccine for tuberculosis (TB) from countries all over the world. 
---
MycoHit Software 
Graphical user interface for Genomic Sequence Comparison
MycoHit is a JAVA application: https://www.mcgill.ca/molepi/mycohit-software
---
In this new public community on GHDonline, professionals ranging from clinicians, policy-makers, researchers, implementers, and advocates share questions, successes, and lessons learned to advance the field of global health diagnostics. https://www.ghdonline.org/diagnostics/
---
Resources for TB diagnostics developers:
TB Frequently Asked Questions
TB Diagnostics: Top 10 FAQs By Test Developers - http://www.tbfaqs.org/ 
---

---
TB diagnostics market analyses:
---
---

A Comprehensive Resource For Evidence Syntheses, Policies, Guidelines And Research Agendas On TB Diagnostics - http://tbevidence.org/
---

A website for learning and teaching epidemiology - http://www.teachepi.org/
---
Containment Level 3 (CL3) Core Facility
Core Director: Dr. Marcel Behr   Containment Level 3
The RI-MUHC has a CL3 (also known as Containment Level 3) Core Facility for TB research that meets the highest safety standards defined by Canadian guidelines (PHAC and CFIA).  Work carried out in this facility includes all experimental procedures involving the manipulation of live Mycobacterium tuberculosis.  The facility is available to RI-MUHC researchers, affiliated collaborators and external researchers working on tuberculosis.  
The RI-MUHC CL3 Core Facility is comprised of a laboratory for bacterial manipulation and an adjoining room for experiments.   Because work done in the RI-MUHC CL3 lab must follow strict adherence to procedure, once a set of investigations is approved, the facility manager will oversee training, provide guidance to researchers, and monitor experiments.
---
DATABASE available to members of the TB Centre:
Understanding the keys to tuberculosis: from exposure to infection, and from infection to disease.
This database was established from 2006 to 2012 from questionnaires and biologic samples.
Please contact lynn [dot] derycapes [at] mail [dot] mcgill [dot] ca for more information