Welcome to the McGill International Tuberculosis Centre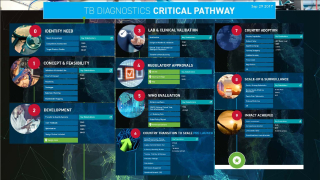 A web-based pathway to guide innovators as they develop new TB diagnostics and adjunct technologies: TBDx Critical pathway
The TB Diagnostics Critical Pathway is a common good resource that will be owned by everyone in the TB community and regularly updated.
The site was conceived as a tool to help innovators develop their ideas from research to roll-out, offering guidance on the right partnerships to pursue and procedures to follow. The TBDx Pathway will help standardize research, commercialization and roll-out procedures to speed the introduction of promising, new TB diagnostics and adjunct technologies. www.tbdxpathway.org
---

​The McGill ​International ​TB Centre​ ​joins the TB Alliance​ as an institutional stakeholder in dedicating ourselves to supporting the common vision of discovery and development of better, faster-acting and affordable tuberculosis drugs that are available to all who need them. View declaration
---
Congratulations to ​our Centre director, ​Dr. Marcel Behr who has been named as a Fellow of the Royal Society of Canada as part of the 2017 cohort. Click here for list the list of new fellows.
---
Congratulations to our Associate Director, Dr. Madhukar Pai for his induction into the Canadian Academy of Health Sciences
---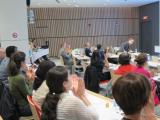 The 5th Annual TB Centre Research Day on June 2, 2017 was a great success. There was great attendance and a buzz that can be seen in the photo gallery:  https://goo.gl/photos/HQkuvsoTn8aieSMA9.
Dr. Daniel Chin from the Gates Foundation gave an insightful talk entitled "TB Delivery for Impact" by drawing on his extensive experience with TB control in China. 
---

---
Wow! Must read note by Mr Stephen Lewis on tuberculosis in Nunavut and what Canada must do to end it!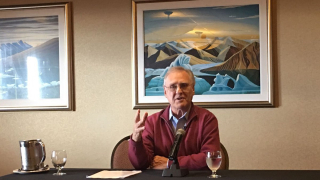 https://aidsfreeworld.org/commentary/2017/9/9/statement…September 9, 2017: Stephen Lewis delivers a statement on the challenges addressing TB in northern Canada at a press conference in Iqaluit, Nunavut. (Photo: Georgia White)
---
Great job at knowledge synthesis by TB Centre researchers:
​The 100 top-cited tuberculosis research studies
According to a study, McGill researchers account for 6% of the world's best cited TB papers which is a very high ranking! The 100 top-cited tuberculosis research studies (International Union Against Tuberculosis and Lung Disease) Download
---
Post Doctoral Fellowship Positions in Tuberculosis Research Available:
---
Recent TB Articles/Publications

Our centre brings together over 20 investigators with expertise spanning epidemiology, policy setting, economic analyses, implementation research, meta-analyses,  qualitative research to basic science in microbiology, host genetics and immune response. 
The work is done both at an academic centre and with a number of collaborating groups around the world. On these pages, we introduce the faculty members who are members of our centre and describe our training programs for students.  Find out why our Centre is a world leader in the interdisciplinary study of TB and how we work together to unravel the many mysteries of this recalcitrant disease.
---