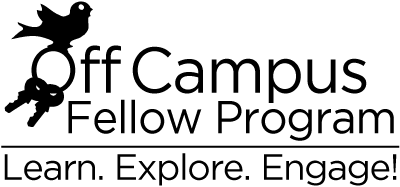 Throughout the academic year, first-year students who register, both local and new to Montreal, living off-campus, will join a unique community led by Off-Campus Fellows and the Off-Campus Council centered around:
Learning and sharing: Getting through your first week at McGill and Montreal as a University student, orientating yourself with a new environment and sharing along the way!
Exploring the city: Finding new cafes, bars, libraries, museums and many more hidden gems that the city offers!
Engaging with the community: Building strong relationships with the city of Montreal, the larger McGill Community and each other!
The Off-Campus Fellow Program is also committed towards suiting your own interests, with customized activities ranging from rock-climbing to camping to textbook hunting to potlucking! The program promises to offer fun and exciting events for natives of Montreal and incoming students alike! If you are a first-year living off-campus, this program is for YOU!
Throughout the program, participants will be challenged to explore new sites, ideas, and cultures, immersing themselves in the great depth of Montreal's offerings, while creating meaningful relationships with the city, the University, Fellows, and participants!
---