Residence Life Facilitators (Rez Lifers) fill a crucial role in the residence system. These upper-year student leaders know the ins and outs of the residence community, acting as important resources and holders of institutional memory while they bring enriching programs to new students throughout the year. 
At the end of August and the beginning of September, Rez Life Facilitators work hard to organize residence-wide welcome events that help first year students adjust to their surroundings in a fun and interactive way. Once the dust has settled on orientation week, the 'Rez Lifers' continue to host residence-wide events throughout the year in correspondence with their individual protfolios.  These include: Rez Warz events, the Faculty-in-Rez speaker series, French coversation groups, community engagement activities, Inter-Residence Council and Environmental Residence Council mentorship, and an energy-saving competition called Fight the Power.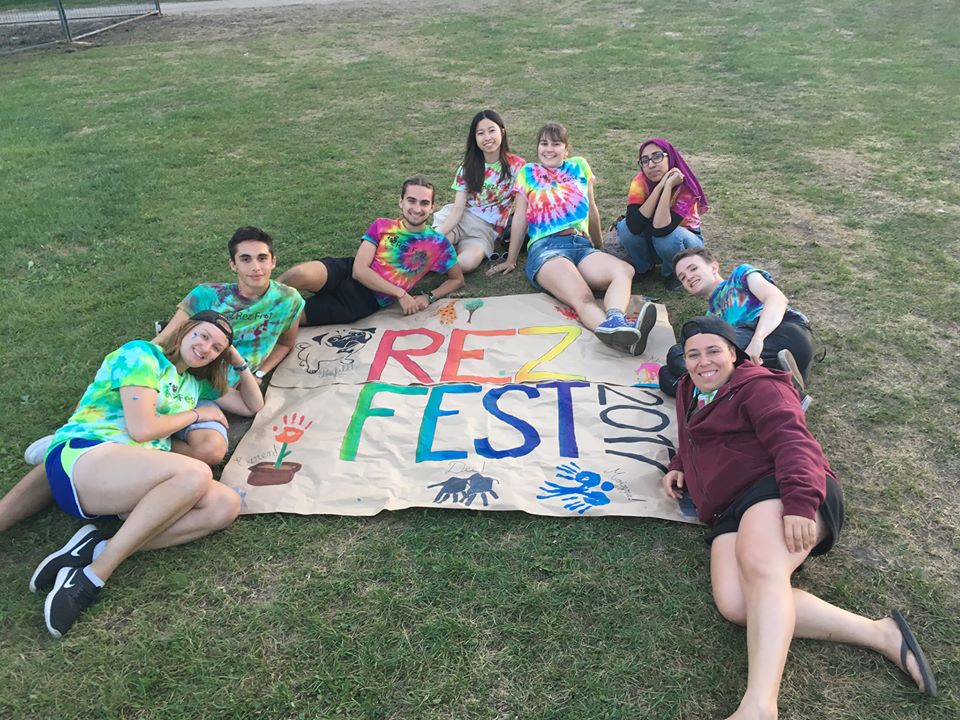 To get in touch with any of the Rez Lifers, email rez.life [at] mcgill.ca.
Colin

I lived in Solin Hall in first year and participated in hall council and quickly fell in love with everything residence. I am currently responsible for the RezWarz portfolio. RezWarz is a series of events ranging from Iron Chef to football games with the intention of bringing people together both within their residence and between residences. My focus this year with the RezWarz portfolio this year is to create more diverse events particularly more often and more relaxed events. Looking forward to a great year!

Moizza

I'm the Wellness in Rez Co-ordinator for the 2017-2018 Rez Life Team. I believe that while living in Rez can be a wonderful and enriching experience, it can also, at times, be difficult. That's why I'm dedicated to my position as Wellness in Rez Co-ordinator, which brings initiatives and programming to students that give them opportunities to heal and nurture themselves, and provide them with strategies to implement health and wellness into their lives in rez, at McGill, and beyond. I'm excited to be able help students feel comfortable, safe, and respected in the Rez community. 

Adrian

My name's Adrian and I'm this year's ERC Advisor ! As the Advisor to the Environmental Residence Council, I make sure that everything is running smoothly in weekly council meetings, and that the organisation of events, such as Fight the Power and Mission to Mac, is progressing well. Through ERC, I plan to engage students in Residence with student sustainability groups, and increase awareness of sustainable practices that can, and should, be followed on campus. My team and I are looking forward to implementing new ideas into Residence, and making McGill campus a greener place. 

Cristina

My name is Cristina and I'm a U1 student hailing from the big city of Toronto, studying International Development and Environmentalism. My portfolio oversees the bringing of McGill Professors and Alum into residences for speeches, panel discussions, and presentations. Although Professors can seem very intimidating and unapproachable, they genuinely love coming into residences and having these more "informal" conversations with students. I look forward to bringing a diverse crop of Profs into rez for students to meet; I hope you will find them to be as inspiring as I do :)

Delaney

Delaney Dunne is in her second year at McGill, working on a Joint Honours in Physics and Chemistry, and is advisor to RezLife's Community Equity and Engagement Committee. This is a non-hierarchal, appointment-based committee that works to improve the lives of marginalized students in Rez, and to get students out into and active in the greater McGill and Montreal communities!

 

Alyssa

My name is Alyssa, and I am one of the Inter-Rez Council Advisors this year! Together with Evren, I coordinate elections for all the Hall Councils as well as the Inter-Residence Council, and spearhead the organising of Council Orientation for all council members. During the year, I co-advise in all IRC meetings, and support IRC members to organise accessible, inclusive, and exciting on- and off-campus events for all students living in residence.

 

My name is Evren and I am one of the Inter-Rez Council Advisors this year! Alongside Alyssa, I coordinate Hall Council and Inter-Rez Council elections and lead the organizing of Council Orientation for all council members. During the year I co-advise in all IRC meetings while providing support for IRC members. We also facilitate the organization of accessible, inclusive, and exciting events for all students living in residence!