Second year Masters Student, Department of Anthropology, McGill University. Specializing in aspects of gender in post-socialist Ukraine. To contact please email erin.prachun [at] mail.mcgill.ca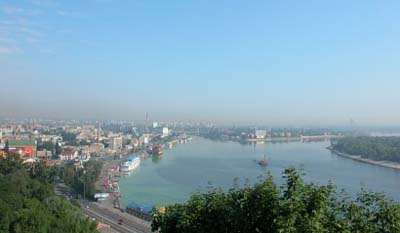 Kiev, Ukraine
Located in the North and somewhat West part of Ukraine, Kiev is the capital of this newly independent country. Founded in the 5th century, Kiev is the mother city of Ukraine, Russia and Belarus. All three descended from Kievan Rus, the Slavic super-state that existed from the 9th to the 11th centuries. Since then, Kiev has survived Mongol invasions, devastating fires, communist urban planning, the massive destruction of WWII and now is experiencing a sort of revival in the new age of independence.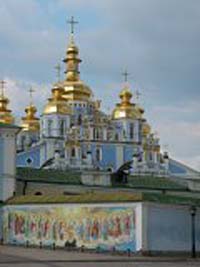 Research Interests
My own research in Kiev will focus on the changing representations of gender since the fall of communism. Specifically, I will look at the urban population of Kiev. To examine this I will study Ukrainian children's literature at the State Library of Children's Literature in Kiev. A comparison of books published from 1970 to 1979 and then 1993 to 2003 will make up the communist and post-communist sample groups. It is well known that a main component of "learning" ones role in society is found in early books and educational readers. I will also interview parents of children who fit the desired age range of 4-7.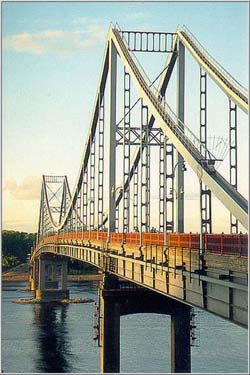 I will to use participant observation and interview techniques to discuss the changes in the ideals of gender roles, specifically women's, within Ukraine since independence.I am particularly interested in women's roles in work and family. I plan to interview a random group of people about what jobs are performed by which grender in Kiev. Labour force surveys will help with me to examine the trends in women's employment over the last 35 years. Is there a move towards domesicity for women in urban Kiev? Is this move actually because of pressure from the government due to the lack of employment as opposed to a shift in values and/or ideals for women in Ukrainian society? Do children's books reflect the changes (if they exist) in women's roels in Kiev since independence
---
Well I am off to the field for the summer to hopefully find the answers to these questions. I am sure more ideas will come up, and some will turn out to be invalid, but I will let you know when I come back in September!
---
Well it is August and I have returned from my two months in Kiev - what wonderful trip! I have learned a great deal about gender roles in post-soviet Ukraine and also learned a great deal about my own Ukrainian heritage. I have not had any time to analyze my data yet but stay tuned! I am currently having a bit of a break in my hometown out west and would like to avoid school work for just a bit longer...cheers!
---
Well it is half way through the year now and my preliminary results are beginning to appear. I can see that since independence children's books are showing progressively more stereotypical gender roles, particularly following the year 2000. Perhaps this is due to the influence of the West and the booming market economy. The most important discovery of my research thus far is that regardless of the gender stereotypes appearing in the literature, reality does not necessarily reflect these stereotypes. Many children's literature specialists hold that children's literature is an accurate reflection of current ideals when it comes to gender. I plan to go against this belief and say that perhaps only in a society such as our own can that be true. A transitory society, like in Kyiv, may see children's literature reflect an ideal tranisition and who that ideal is ideal for is another story. On that note I will leave this for now, there is so much work to be done before I can go any further with my thoughts. Below you can see some pictures of my time in Kyiv and other cities in Ukraine.