Research Seminars in Rehabilitation Science
The School of Physical & Occupational Therapy (SPOT) hosts regular research seminars where faculty and invited guest lecturers present their latest work and findings.
Past seminars presented at the School for the Centre for Continuing Medical Education (CME) of McGill University are available for offline viewing on the internet, here.
For further information, please contact researchcoordinator.spot [at] mcgill.ca (Erin Douglas,) SPOT Research Coordinator.
Current Academic Year Research Seminars
---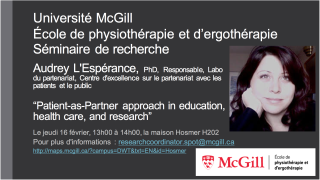 16 fév 2017 - Pre. L'Espérance
Although patient-centered approaches have contributed to significant advances in care and to treatments that more fully respect patients' preferences, values, and personal experiences, the reality is that health care professionals still hold a monopoly on the role of healer. 
Patients live with their conditions every day and are experts when it comes to their own experiences of illness; this expertise should be welcomed, valued, and fostered by other members of the care team. 
The patient-as-partner approach embodies the ideal of making the patient a full member of the health care team, a true partner in his or her care. 
The presentation will uncover this innovative approach to patient care, including the conceptual framework used in its development and the main achievements of patient partners in education, health care, and research. 
L'Espérance February 16 2017
---
​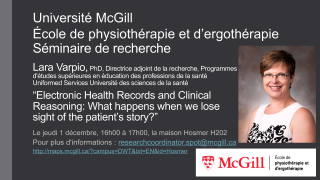 1 déc 2016 - Prof. Varpio: Données eléctro
Dec 1 2016 - Prof. Varpio: e-Records
---
Teachman 7 novembre 2016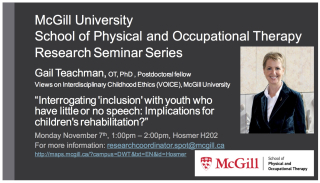 Teachman November 7 2016
---
Agbakoba June 16 2016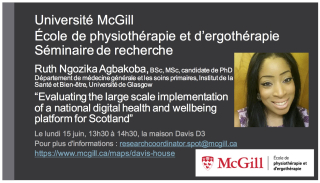 Agbakoba 16 juin 2016
Fiore May 16 2016
Ogourtsova April 7 2015
Swaine March 31 2015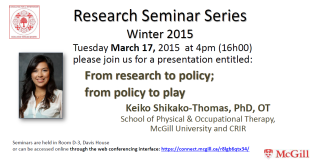 Shikako-Thomas March 17 2015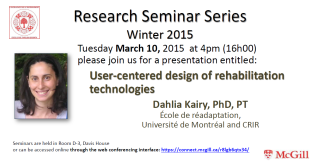 Kairy March 10 2015
Marshall Feb 17 2015
Michaud Feb 10 2015
Excellence through Growth