What Does SWSA Do?
 - supports the social work undergraduate student community
 - facilitates meaningful learning opportunities outside of school
 - organizes fun social events for students
 - advocates on behalf of students for school changes and improvements
SWSA is a liaison between students and faculty at the School of Social Work, and between the School of Social Work and wider McGill University community.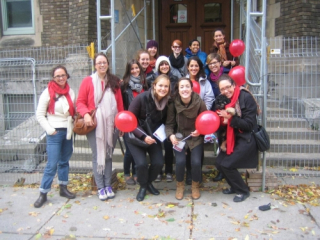 SWSA/SWAGS Walk for Mental Health
We Want YOU!
There are many positions available for students on the SWSA council, or as a member of one of our committees.
Elections for council positions are held in the Fall semester.
Please email the coordinator if you are interested in joining one of our committees:
Activities Committee: The Activities Committee organizes social events, activities, fundraisers, fall sweatshirt sales, and SWSA's involvement in the Career Fair, etc. (Coordinator Email)

Communication Committee: The Communications Committee ensures the dissemination of information among SWSA committees and students. They are in charge of the SWSA newsletter, e-mails, class announcements, and advertising for events. (Coordinator Email)
Current Executives 2014-2015
Executive Coordinator –%20denis [dot] dub%C3%A9 [at] mail [dot] mcgill [dot] ca ( Denis Dubé)
Communications Coordinator – Alexia Cleveland
VP Internal – Melanie Pabst-Leonidas
VP External - Roméo Bidar
Activities Coordinator – VACANT
Finance Coordinator – Mikaella Hofmann-Azerad
U3 Representative – Muriel Harushamagara
U2 Representative – VACANT
U1 Representative -
BSW Senate - Alexandru Munteanu
Upcoming Events
Facebook: www.facebook.com/mcgillswsa
SWSA Contacts
If you have any requests or suggestions for SWSA, feel free to contact us at: communication [dot] swsa [at] gmail [dot] com.
Looking for past SWSA information? Visit the SWSA Past Years Page.