---
Canadian Institutes of Health Research names Bill Ryan
one of the Top Ten Researchers in Gender and Health of the Last Ten Years

Bill Ryan, Adjunct Professor at the School of Social Work, was recognized along with Line Chamberlain of the Université du Québec à Montréal for the contribution their research has made in changing social policy and attitudes in Québec and elsewhere in Canada.
To read more about this great achievement, click here: Bill Ryan Named Top Ten Researcher [.pdf].
---
Comparative Perspectives on Federalism
and Health Care: A U.S. – Canada / Québec Health Policy Symposium.

Health care reform has been a significant political issue on both sides of the Canada-US border, and yet many of the realities of comparative health policy need to be better understood. This symposium offered insights into one of the important features of that comparison, namely federalism, and the role of state-level and provincial-level actors, in particular Québec, in effecting and implementing health reform.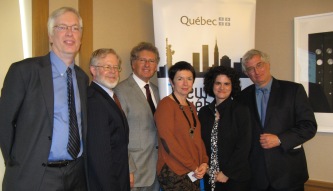 ---
Homecoming Lecture 2011 - A Huge Success!
"Caring to Caregiving: Parents of Children With Neurodevelopmental Disorders"
A Lecture by Lucyna M. Lach, MSW, Ph.D. on Thursday, October 13th, 2011
The field of social work is bereft with assumptions about what constitutes 'good enough' parenting of children with neurodevelopmental disorders such as cerebral palsy, epilepsy, and autism spectrum disorder. Media portrayals of these parents range from depicting them as villains who take the lives of their children into their own hands, to committed and tireless advocates. The social science literature presents a similar range of images: parents as depressed, overly anxious, overprotective and over involved caregivers who cannot separate out their own needs from those of their child, to parents as resilient caregivers whose capacity to rise to the challenges of 'coping' with their child's needs by far surpass our imagination.
Social workers in Canada are beginning to step into this debate, using research to systematically document caregiver outcomes and experiences. Dr. Lach will present findings from her program of research as well as those of her colleagues. This lecture will illuminate the basis for this debate by highlighting where these assumptions come from, presenting the current status of research on this topic, and discussing the implications for policy and practice.
Lucyna M. Lach, MSW, PhD is an Associate Professor in the School of Social Work and is an Associate Member of the Department of Pediatrics in the Faculty of Medicine at McGill University. After spending 17 years as a front line social worker at the Hospital for Sick Children, Dr. Lach joined the faculty at McGill University. Dr. Lach is the co-principal investigator of the CIHR Team in Parenting Matters! and has received tri-council funding to pursue her program of research related to caregivers of children with chronic health conditions and disabilities. She is a member of the Canadian Institutes for Health Research Child Health review committee and is currently the Director of the MSW program in the School of Social Work.
 Please see the Homecoming 2011 Newsletter from the Director, Dr. Wendy Thomson.
---