Ottawa Trip - Tour to the Library of Parliament and The National Gallery Library
When: November 16, 2015 Where: Ottawa
Meeting point: Gare Centrale at 7am
Jobs & Pizza
When: March 18, 2013 Where: Faculty of Education room: 133
This SLA event is to help prepare MLIS I students for this summer's job hunt and practicum! MLIS II students will share their job and practicum experiences from last year to help MLIS I students get an idea of what they can expect this summer, in terms of employment and practicum positions.
Free pizza for all those who attend!
SLA Mad Mixer
When: February 28, 2013 Where: Thomson House Ballroom (3rd floor) Theme: Mad Men (dress dapper and get a professional photo taken for your LinkedIn, or what have you page) Cost: $5 in advance, $7 at the door, $2 off if you bring a snack to share with everyone!
Osler Library Tour
When: January 13th @ 6 PM Where: McIntyre Medical Building (3rd Floor) Hosted by: Anna Dysert
The 2nd Annual LWB SLA Social (2011-2012)
Join us at Il Motore on October 20th. The doors open at 7pm and the tickets are only $5.
Tickets will be on sale throughout the week by all SLA and LWB members - watch for announcements during your classes!
See you there!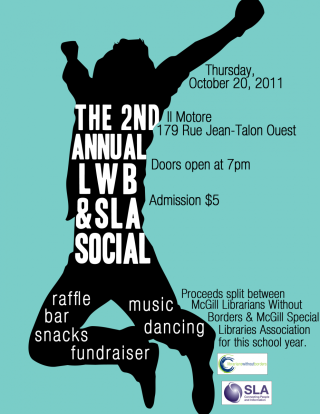 Libraries as a Safe Space (2010-2011)
Time Friday November 19, 2010 · 2:00pm - 5:00pm
Location Currie Room 305/305
475 ave Des Pins Ouest
Montreal, QC
More Info
Help intellectual freedom to thrive! Libraries should be safe, welcoming spaces that provide access to information resources for everyone in the community, particularly the most vulnerable.
This half day workshop will have academic speakers and panelists on:
bullying
the concept of safer spaces
self-censorship
proactive collections development
Whether you consider yourself already an ally to LGBT teens and adults, or have no idea of where to start, this workshop aims to provide a practical look at what we can do to make it better.
*Open to all library students, educators, and those working in the library system
* A resource pack will be provided
* No registration fee
***If you have relevant research to present, or experiences to share as a panelist, please get in touch - there is still room!***
Files
Libraries as a Safe Space Resources Libraries as a Safe Space Appendix Self_Censorship
SLA Networking Event (2008-2009)
On Thursday March 5, 2009 the Career Fair is going on and is a great opportunity to find summer jobs, internships, contract, part and full time positions, it's taking place in MS 24 & 42 between 1-5. It is a great opportunity for SIS students and everyone should attend!

This year the SLA McGill Student Group will be hosting a Career Cafe in the lounge during the Career Fair hours. Students should visit the Career Fair and then head to the lounge for some free coffee, donuts, and some informal networking with local information professionals!

The Career Cafe is meant as an opportunity for you to informally meet professionals and speak with them about their careers and experiences in information jobs. The professionals attending the Career Cafe do not necessarily have jobs to offer you, but they want to meet SIS students and definitely want to share their career advice; there are numerous librarians and even an archivist from McCord that have agreed to swing by.

Even if you don't feel like networking, feel free to stop by after you're done at the Career Fair to mingle with other students. Just chatting about job opportunities, CV tips, and your own experiences over a free coffee is a great chance to share your knowledge with your fellow students!
Speaker from the National Film Board (2008-2009)
The SLA is pleased to announce the 2nd guest speaker of the school year: Katherine Kasirer, librarian at the National Film Board!

It will be a very informal presentation with lots of room for questions. She will give an overview of the NFB (the library's clients) and the variety of tasks they do in the reference library. She will also touch on the Stockshot Library and give a live demonstration of www.nfb.ca

So come bring your lunch next Tuesday, February 10th between 12:15-1:15 in MS 42. As always, juice and muffins will be provided!
Annual SLA Networking 5@7 at Thomson House (2007-2008)
Thursday February 21, 2008, 5 - 8pm
Come join us at Thompson House for the networking event of the year. There will be food platters, a well stocked bar, and Professional Information Scientists!
The Professionals are there to speak to, ask questions to, and hear their stories. It'll be a great chance to network, get your name known, and learn how to get your foot in the door. Students from the École de bibliothéconomie et des sciences de l'information at the Université de Montréal have also been invited to join us.
So come out and kick-off reading week by dressing up, eating, drinking, and networking! It'll be a night to remember, or even kick-start your career!
Students registered by Feb. 18th are eligible for prizes!
Web 2.You: A Workshop for Information Professionals (2007-2008)
Friday, February 15, 2008

Starting at 9am in Room MS42 at McGill's SIS, 3459 McTavish Street

Map

In the spirit of the Web 2.0 movement we aim to bring together a cross-section of participants in a day-long skill share. Those just being introduced to these new technologies would benefit from the experience of presenters and co-participants. Others with more advanced skills will have the opportunity to lead discussions as part of our "unconference" lunch. For all participants this will be an excellent opportunity to reconnect and learn what is being done with emerging web technologies locally, internationally, and in virtual environments.

We are delighted to announce that presenters include Jessamyn West who will present "Web2.0, Library 2.0, and Librarian 2.0" and John Dupuis who will present "Blogging for Professional Development". Rajiv Johal & Beth Dunning will also present "Is Boolean Dead? Researching and the New Web" and Amy Buckland & Janis Dawson will present "A Second Life for your Library".
Presentations by:

Michael Stephens
The Hyperlinked Library
Assistant Professor, Graduate School of Library and Information Science, Dominican University, River Forest, Illinois
http://tametheweb.com/

Stephen Abram
Shift Happens 2.0: What on earth is happening and how will it affect libraryland?
Vice President of Innovation, SirsiDynix, Toronto, Ontario
http://stephenslighthouse.sirsidynix.com/

Amy Buckland
Joining the discussion: Using social networks for professional development (or developing into a professional)
Liaison Librarian, Howard Ross Library of Management, McGill University, Montreal, Quebec
http://informingthoughts.com


http://web2pointyou.pbwiki.com
Brown Bag Lunch with Louise Guy, Cirque du Soleil (2007-2008)
Thursday January 24th, 2008, 12:15 - 1:15pm, Room TBA
Come and hear from the head of the information centre at Cirque du Soleil. Presentation will be in French, but questions can be asked in English or French.
Contest for LIS Students! (2007-2008)
It's that time of year when we're stressed and looking for procrastinatory pursuits. So here's one.
Given the recently discussed editorial cartoon depicting librarians as old hags (boo! hiss!) the SLA is sponsoring a contest for the best comeback to librarian stereotype comment.
(And since Josee Roy came up with the idea, she, along with another person to be revealed at a later date, will judge.)
Comebacks should have attitude (but no profanity) and need to be emailed to Amy by January 15, 2008 (please put "Comeback Contest" in the subject line). Bonus points if gestures are required.
The winner (and runners-up) will be announced on January 17th at Thomson House so that we can practice them on all those other grad students who ask why you need a master's degree to "shush" people.
Oh - and there's a prize. It's a good one, so you'll wanna enter.
Amy
President, SLA McGill Student Group
The Hollywood Librarian: A Look at Librarians through Film (2007-2008)
Tickets $8 adults, $5 children/seniors, FREE for LIS students, faculty, and librarians!

Thursday October 18, 2007
6:30 pm in the Frank Dawson Adams Auditorium

and

Thursday November 8, 2007
12:15pm in MS-42, McLennen Library

Check out the trailer! www.hollywoodlibrarian.com
Speaker - Competitive Intelligence (2006-2007)
Please join us on Wednesday March 28 in MS 42 at 12:15. Robert Galipeau will be speaking about his role in Competitive Intelligence at Alcan Inc.
Rob is Team Leader, Research & Competitive Intelligence within the Alcan Business Information Centre. He is also an SLA member and a member of the SLA ECC Advisory Board (in charge of Fundraising and Sponsorship).