Our Mandate
The Senate Subcommittee on Women (SSCOW) makes recommendations to the Joint Senate Board Committee on Equity (JSBCE) on the following topics:
1) Advocacy of Women's Rights and Promotion of Women
Providing positive action regarding the employment and promotion of women at McGill University
Promoting equity for women in salary and pension issues
Monitoring representation of women on University committees and in administrative positions
Monitoring policy and practices affecting women
Providing advocacy for the problems of obtaining research funding - Supporting research and teaching on women
2) Initiation and Consolidation of Women's Activities
Will collaborate with the Institute for Gender, Sexuality, and Feminist Studies (IGSF) when there are issues of mutual interest. As well, SSCOW will continue to offer its own advice about and support to the activities of women students and all staff. 
3) Liaison and Networking for Women
Assisting in the sponsorship of conferences on issues pertinent to women in academic and workplace contexts
Facilitating contact with other women's groups at the University as well as regional and national organizations
Members
The SSCOW has about 20 active members drawn from faculty, staff, undergraduate and graduate students, and alumni. Many members are appointed by the Deans of their Faculty, but everyone is welcome to attend the monthly, hour-long meetings and work with the Subcommittee. Agendas and minutes from the meetings are circulated to all those interested in receiving them.
In the Works
Monitoring and following-up on reports on academic salaries; employment equity policies; and the sexual harassment, harassment, and discrimination policy
Updating the SSCOW website to ensure its relevance and currency
Documenting the evolution of the McGill University "Committee on Women" in a "herStory" project
Submission to and engagement with the Principal's Task Force on Diversity, Excellence and Community Engagement
Collaborations with the other Equity Subcommittees and with SEDE on issues of mutual interest
Developing reduced work options and other mechanisms that will accommodate the needs of all faculty, staff, and students
Recent Successes and Past Activities
Worked on updating and revising the Sexual Harassment, Harassment and Discrimination policy
Completion and presentation to Senate of the first Employment Equity Report, the "Cullen" Report
Supported SACCOMS in its search for permanent space
Collaborated with PGSS and others in initiating the development of a Student-Parent workshop
Contributed to the 20th Anniversary Commemoration of the École Polytechnique Massacre
---
Annual Report
2012-2013 Subcommittee on Women Annual Report to the Joint Senate-Board Committee on Equity [.pdf]
2008-2009 Subcommittee on Women Annual Report to the Joint Senate-Board Committee on Equity [.pdf]
---
International Women's Day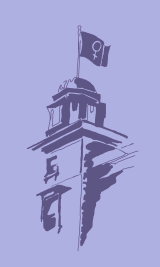 Tuesday, March 8, is International Women's Day. It is a day for celebrating a range of economic, cultural, social, and political achievements of women but also a time to consider what still needs to be done to advance women's rights. And there IS much that still needs doing -- both locally and internationally. This is especially the situation this year when so many essential women's groups and programs have been defunded by governments and when advocacy is increasingly silenced. Please join us, and other members of the McGill community, as we honour women everywhere and work together to protect and promote women's rights, equity, and social justice around the world.